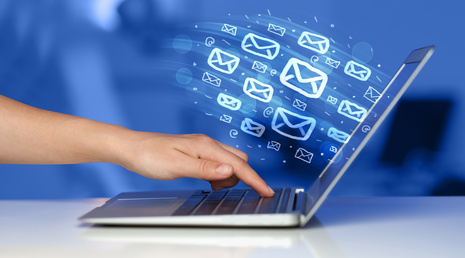 With the new year comes opportunity for new marketing strategies.  And while you have probably defined your marketing strategy and campaigns for the coming year, it is never too late (or too early) to fine-tune your marketing efforts.  In recent posts, we have explored "Holiday Marketing Must-Haves" and "Tips for Content Marketing Success", but today we are taking a wider approach to your marketing strategy by addressing ways to improve you email marketing and Search Engine Optimization:
Email Marketing
Did you know that marketing emails are 40 times more effective than posts on social media?  It is easy to get wrapped up in social media and its analytics, but don't overlook the power of email marketing.  Ways to amp up your game in 2019 include:
Professional Email Templates – There are numerous email marketing platforms available, many for a limited cost. Rather than attempting to craft a creative and eye-catching email on your own and directly from your outlook or email service provider, check out some of the professional templates offered by third-party companies that will increase the likelihood of getting your products and services noticed.
Organize Contacts – Have you updated your contact lists? Are you monitoring your clicks, subscribers and open rates?  If so, you will want to update your contact lists accordingly.  While you have a valuable source for qualified prospects through HBW, you will want to make sure to have a system for managing, tracking and organizing those contacts.  You can import new and existing contacts into a format that allows you to organize them according based on specific criteria (i.e. location).
Schedule and Automate – Crafting and distributing emails one-by-one is time consuming and often leads to missed opportunities. Plan and automate your emails in the coming year to stay ahead and send the right emails with perfect timing, automatically.
Search Engine Optimization (SEO)
Optimizing your website for better search result rankings on search engines such as Google can be easier than you may think.  In addition to posting keyword and relevant content on your website, you can use tools to give a boost to your results:
Get Social – Having an active social media profile already increases the likelihood that your company will be found considering that much search activity occurs within and through social networks. Major networks such as FaceBook, Twitter, Instagram and LinkedIn are a great place to start, but just be sure to have a link back to your website within your profile and relevant posts.
Metadata – Discuss metadata with your website designer/manager. Three types of metadata include: title metadata (page titles); description metadata (textual description that a browser may use in your page search return); keyword metadata (key search words or phrases).  Make sure that your metadata reflects your primary services and popular search strings relevant to your company's offerings.
Targeted Advertising – If you are planning on running any ads online, make sure that you are running targeted ads. With the technology today, there are ways to directly reach your target audience with the right content at the right time which will increase the number of visitors to your website.
Monitor Your Website – Tracking your website performance and visitors is important in identifying what works and doesn't work in your pages, campaigns and ads. Check out Google's webmaster tools as it serves as a great reference for understanding your Google site stats.
For more information on construction business and marketing tips, stay connected with the HBW Blog.  To get ahead of construction activity and gain access to the latest permitting data in Florida, Texas, Georgia, Alabama and Oklahoma, contact HBW for more information on construction data reports and industry leads.