While home construction was up last month, single-family home construction was down for the third month in row.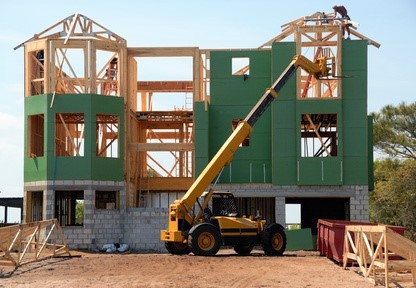 According to the Commerce Department, and as reported on CNBC (source: CNBC video report), last month housing starts increased 3.2 percent to a seasonally adjusted annual rate of 1.256 million units; this increase was mostly due to the surge in multi-family housing projects – Building permits increased 5 percent to a rate of 1.328 million units during the month of November fueled by the increase in the fluctuating multi-family housing sector.  That being stated, single-family home construction declined for the third straight month, reflecting a 1.5 year low.  Based on the decline, some economists have expressed concern that it is sign of a slowing economy.
Contributing factors to the decline in single-family home construction go beyond simply a slowing economy.  The housing market is currently being limited by higher mortgage rates.  Additionally, limited land and the ever-growing labor shortage have also caused much of the housing market (and construction industry) to become sluggish in some areas.  As a result, inventory has tightened, and land constraints have also contributed to the limited single-family housing starts.  On top of that, there is the issue of affordability…  Although house price inflation has slowed, it is still above wage growth which can especially be problematic for bringing in first-time homebuyers.
According to Reuters, homebuilding investment was expected to have declined in the fourth quarter of 2018, and the "soft patch" is predicted to continue through the first half of 2019. The report also provided a breakdown of where single-family starts were up, and where the greatest drops could be found:
Southern U.S. – The South accounts for the majority of homebuilding, and in contrast to the overall dip nationwide, single-family housing starts jumped 6.8 percent in the South last month.
Northeast U.S. – Single-family starts in the Northeast took a dive in November, having experienced a 9.5 percent month-over-month decrease.
Western U.S. – With the devastating wildfires in California, it should come as no surprise that the West had the most dramatic month-over-month drop in single-family housing starts having a 24.4 percent decrease.
Midwest U.S. – During the month of November, single-family housing starts dropped 3.2 percent in the Midwest.
When looking at the latest permit activity, new permits for single-family home construction across the nation moved up ever so slightly by 0.1 percent. The total number of permits is now above the level of actual single-family starts, which may be indicative of an impending boost in new residential construction overall.
To gain more information on the builders, homeowners and permits for new construction, check out HBW for your copy of the latest construction data reports. To gain access to the HBW database and receive custom and detailed reports on the latest residential and commercial building activity in Florida, Georgia, Texas, Alabama, and Oklahoma, please contact HBW for details.