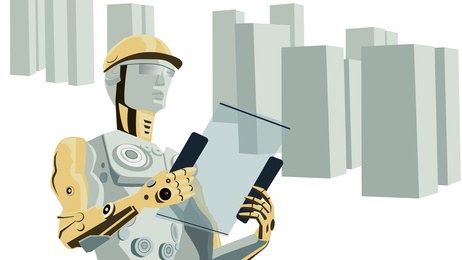 While the construction industry tends to be the slowest to pick up new technology, some of that appears to be changing.  New innovations and technology in construction are being developed, and it looks like a few of them could make a major impact (and improvement) on construction materials and building methods.  Here are three construction innovations that are both futuristic and realistic:
3D Printed Houses – 3D printed houses have been gaining recognition and provide us a glimpse into the future of construction.  The first company to build a 3D printed home was Chinese company WinSun, and in 2013, it printed ten homes in just a 24-hour period. Fast forward to 2017, just four years later, and we have Apis Core in San Francisco which successfully built a low-slung dwelling in Russia on location in a single day; the cost was just $10k. In addition to being quick to build and economical, 3D printed homes have the potential to serve an important purpose in areas where there is a high demand for new housing, such as post-disaster (hurricanes, tsunamis, earthquakes) and in underserved cities/towns where the poverty level is high. 3D printing could play an important role in the industry's labor shortage, as well as open the doors to creative new designs in construction.
Bamboo Buildings – Bamboo could possibly be the perfect natural building material. There is plenty of it available and the plant can grow up to four feet per day; it also regrows without the need for replanting. In addition to being sustainable and renewable, it is reportedly stronger than steel (2-3 times stronger) and more resilient than concrete. Along with its strength, it is also quite flexible, lending itself to construction in areas vulnerable to earthquakes.
Smart Bricks – Did you ever enjoy building Lego sets? Well, get ready to put your skills to good use as some of the biggest Lego-style projects may one day make their way into real world construction.  An Israeli company by the name of Kite Bricks has been developing a new generation of bricks, called Smart Bricks; these bricks are built in a high-resistant concrete and designed to be easily joined together, just like your favorite Lego sets.  Smart bricks are very versatile and offer substantial thermal energy control.  Just as with 3D printing, smart bricks have the potential to reduce construction costs, and since they are modularly designed, they require little training to assemble and provide space for insulation, electricity and plumbing.
With these innovations, we have a chance to take sneak peek into the future of our industry, and they are opening the doors to more affordable, sustainable and cost-effective possibilities.
For more information on construction industry trends and business tips, stay connected with the HBW Blog.  To get ahead of construction activity and gain access to the latest permitting data in Florida, Texas, Georgia, Alabama and Oklahoma, contact HBW for more information on construction data reports and industry leads.