Every business knows how powerful word of mouth can be for generating new business, and testimonials are a great way to get the ball, and buzz, rolling.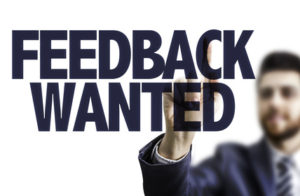 Another year is right around the corner, and with a new year there is new opportunity to update your website, marketing materials and testimonials.  While you don't want to overload your website or social profiles with excessive testimonials, it is a good idea to refresh them now and again.  Whether you print them in your prospect packages or share them on a page of your website or social networks, testimonials can be a powerful way to prove your value and encourage prospects to take action.  Here are a few easy ways to gather testimonials that count:
Make the Ask – Testimonials aren't going to just come knocking on your door; you must invite them in, and that can only be done by making the ask.  Consider your satisfied clients, your all stars and high-profile clients and projects.  You can ask them to provide positive feedback by email, letter, phone, text… whatever method works for them.  When you make the ask, know what type of feedback you are looking for and ask direct questions to get the testimonials you need to round out your "portfolio".  Are you looking for testimonials regarding your customer service? Quality of work? Timeliness?  Perhaps you are searching for all of the above; just be sure to ask the questions that address the areas that matter most.
Survey – Surveys couldn't be easier to send out to clients now.  A simple survey form through your email marketing campaign provider makes testimonials a click-and-go process.  Make the survey short (3 questions or less) and be specific on the type of feedback you are looking to obtain.  Multiple choice questions and suggested/example text are ways to make it an easy and attractive process for clients.
Incentives – When in doubt, throw incentives out.  You don't necessarily need to go public with testimonial incentives, but in your next communication consider adding a link that asks for feedback in return for a discount on an initial service or one-time product. The link can go to a survey or a single-field form where they can type and submit their quote/testimonial.
Make a Call – Sometimes it's just easiest to go old school and pick up the phone.  In addition to using this time to check in with a client and their needs, a testimonial can easily be gathered by making the ask by phone and getting the positive feedback from your conversation.  After you write the quote/testimonial based on your conversation, be sure to send it to them for approval so that you have it properly documented.
Testimonials are only as effective as you use them and address questions and areas of interests that are common for your prospects.  Gathering feedback from your clients shouldn't be an isolated event; rather it should be an integral part of nurturing and maintaining a relationship that can build loyalty and fine-tune your offerings to grow and strengthen your business.
For more information on construction business and marketing tips, stay connected with the HBW Blog.  To get ahead of construction activity and gain access to the latest permitting data in Florida, Texas, Georgia, Alabama and Oklahoma, contact HBW for more information on construction data reports and industry leads.