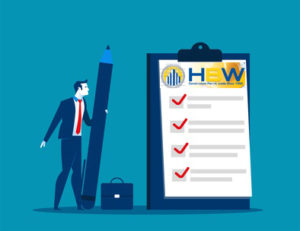 The holiday season is upon us, and while this may lead to more vacation and less productivity in the workplace, it can also be a time for you to review and prepare for the coming year.  In addition to the obvious financial and accounting end-of-the-year tasks (P&L, Balance sheet, reconcile vendors, cashflow reports, etc.) that should be led by your accountant, you will also want to give attention to and tidy up some other aspects of your business.  Here is a brief checklist to get you started:
Back Up Data – In addition to backing up your accounting system, you should run an end-of-year backup of all your files including client files and contracts, creative briefs, email, etc. Make sure that all employees follow the same system for backup; whether you use a hard drive or cloud-based system, all files and computers should be backed up and in two places.
Back Up Your Contacts – While many of your contacts may be backed up with your office files listed above, you and your employees may not sync your mobile devices with your office systems on a regular basis. For this reason, make sure all mobile devices (phones and tablets) and contacts are backed up in two places as well.  While this should be a regular occurrence throughout the year, it is often overlooked, and the end of the year is a great time to make sure everything is properly accounted for in the backup process.
Review Your Files and Database Naming Process – In order for all employees (new and veteran) to easily locate and share information, you should already have a file-naming system in place. If not, now is the time to set one up for 2018.  A file-naming system pertains to all correspondence and files.  For example, all correspondence (letters, email) may have a naming format of "Last Name"-"First Initial"- Date (xx-xx-xx) – "topic (2 word max)".  A systematic approach to naming files is especially important for your business if you share servers or have multiple employees accessing the same data.  Have all employees double-check their files to ensure that they have named them properly, and provide a friendly reminder for the naming system to be followed in the coming year.
Take Inventory – While this one seems obvious when looking at your current building materials, tools and supplies, it may not seem so obvious when looking at your employees and team. Take a close look at your team and current positions and plan ahead for any new positions or roles that may be required to meet demands in the coming year.
Check Your Online Presence – From your website to your YouTube videos and social media profiles, it is time for an end-of-the-year checkup. You should delete or revise any outdated links, addresses, contacts or information that may no longer be valid.  Check every link for its function, and work with your account administrators to review their strategy and posting calendars for the coming year.
Of course, the end of the year also allows time for performance reviews, bonuses and departmental and company-wide goal setting.  Work closely with your team to review the challenges and successes of this year to set up realistic and achievable goals for the coming year.  While general maintenance of your accounting, data and website is essential, it is most important to use this time of year to keep communication open and work with your team to develop a plan and strategy that will position your company for success in 2018.
For more information on construction business and marketing tips, stay connected with the HBW Blog.  To get ahead of construction activity and gain access to the latest permitting data in Florida, Texas, Georgia, Alabama and Oklahoma, contact HBW for more information on construction data reports and industry leads.