Getting started with content marketing can be less overwhelming when you break it down and start with the basics.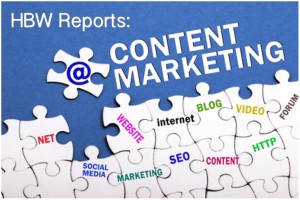 When developing a marketing strategy, there will need to be room for content marketing.  Everyone is talking about content marketing, but for those just getting started, it can seem like an overwhelming task.  What content should I develop?  Where do I publish content?  Which medium is best for reaching my target audience?  These are all good questions, but to get solid answers and find a direction for your business, you will first need to cover the basics.
Define Content – In short, content marketing provides valuable information to prospects and clients and creates loyalty to the brand. You will want to tell a story, but first you will need to define it. Don't just post a random article or video because it is available. Be thoughtful about topics, thinking about who it will reach and why it is important to share. The purpose is to drive your audience back to your business, not just to give away information and move on.  Your story should encourage your audience to take the next step, so chart out your goals and the direction to which your content is designed to lead them. Once you have generated your content, you will need to entice the reader to "click", so make sure your headline is clear and provides enough information about the whitepaper or article to warrant a "click".
Be Consistent – not only in voice, but in content. Try to create a series or bridges between past and present posts and articles.  Refer back to previous publications for support, and allow the narrative to continue by offering downloadable guides and whitepapers.  Although keeping the message consistent is obvious, frequency of posts may be overlooked.  We all experience an ebb and flow of ideas and useful content, but make sure your distribution of such material does not follow stream of consciousness.  Be strategic with your content and consistent in how often you provide such information.  Once you get started, it is crucial that you stick with a schedule, remain fluid in topics covered and maintain the voice of your brand.
Know Your Audience – and their questions. Put yourself in your target audience's shoes. What questions would they ask about your product or service? What keywords would they type into Google if they were looking for home building and remodeling advice?  What are the most frequently asked questions you receive from clients? There is no "one size fits all" when it comes to content marketing; if there is a specific segment of your audience that wants to learn more about your latest designs or products, consider offering a regular weekly or monthly update covering that specific area of interest rather than a general e-newsletter to all.
Choose a Medium – and stick with it! Where you post information is just as important as what you post. You have many options: Blog articles, podcasts, downloadable guides/whitepapers, infographics, videos.  Don't simply base it on what you want to do say, but think about where the best place would be to say it.  If your audience is more active on YouTube, then develop videos that will be of interest to them. If you are looking to reach business professionals, publish articles on LinkedIn and become active in related groups.   Although you will ultimately want to have your content shared in as many mediums as possible, narrow down the point of origin to mediums that are most effective for reaching your audience.  It is better to be effective in one or two areas then spread thin across ten and not effective at all.  Find the medium that works and keep plugging away.
Partner Up – Your content is only effective if your audience reads it. Partner with companies, publications, LinkedIn groups, industry associations, etc. to share your content (and return the favor).  Create a network for the conversation to grow, exchanging links and opportunities for your material to be discovered.  You may also consider developing "exclusives" for your stronger partners which will provide them with an incentive to drive your message out to their networks.  Don't overlook employees either.  Employee Generated Content (EGC) is vital to developing and sharing information.  Your team is rich with talent and ideas about your business, products and services. By providing them with an opportunity to share their knowledge and enthusiasm for your business, you will open the door to authentic and trusted content that can effectively drive brand engagement. At the same time, you will need to have a management system in place for viewing how and where they share, but once you create a structure and guidelines, they will be a palpable force driving your marketing efforts.
To learn more about ways home builders and construction professionals can be effective in marketing and business development, continue to check the latest from the HBW Blog.  To get ahead and gain leads through custom building activity reports throughout Florida, Texas, Georgia, Oklahoma and Alabama, contact HBW for more information.