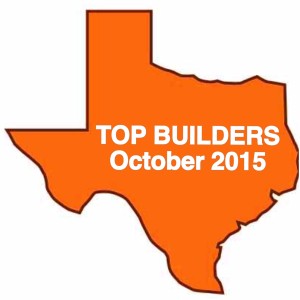 It has been reported that Texas broke a record for rainfall during the month of October. From October 22nd to October 31st, Texas experienced a record 5.32 inches of rain across the state (7.75 in San Antonio).  Despite the rain, home builders were still busy with new permits and starts.  When searching the HBW database for Texas new residential permitting activity throughout October, we found nearly 5,000 new permits in the areas of Dallas, San Antonio, Houston, and Austin.  Houston led the state in total number of starts with 2,174 permits on record for the month, while Dallas led the state in total value of new residential construction with a total of nearly $464 million.
Now that we have an idea of where the bulk of new residential construction occurred in Texas last month, let's take a look at which builders were busiest and driving the figures in each area:
Houston:  Congratulations Houston – You led the state for new residential construction in October! As previously mentioned, D.R. Horton came in #1 for total number of permits for the month (217 – total value: $29,596,744).  In the #2 spot, Lennar Homes had 122 new starts in the area and an impressive $18,960,795 in total value.  Perry Homes took the third spot for total permits (106) and was #2 in total value with $22,593,350.  Harris County had the highest total value in new construction for the month at more than $203 million.
Dallas: Dallas is a hot market for real estate.  According to recent report by Market Watch, home prices have increased 12% and even as high as 20% in some areas.  With the continued increase in population, (130k-140k people moving to area every year), the demand for housing certainly outweighs availability. This demand continues to keep home builders active.  During October, D.R. Horton dominated residential construction in the area with 390 starts (total value: $74,664,175), the most new permits on file in October for any one company (for a given area) in the state.  The second and third spots were close with First Texas Homes adding 55 new permits (total value: $16,373,186) to the HBW database and Beazer Homes adding 50 new permits (total value: $13,502,187) for the month.
Austin: According to the Austin American-Statesman, home sales and prices in Austin and across Texas continued to rise in Q3. During the 3rd quarter in Central Texas, 9,347 homes sold, an 8.7% increase in comparison to 2014 (source:Texas Quarterly Housing Report). The median price of those sales was $260,000, which is a 7.2% increase from Q3 in 2014.  D.R. Horton held a significant lead (131 permits – total value: $20,866,918) on new construction in the Austin area at the start of Q4, more than double the #2 spot held by KB Homes (61 permits – total value: $10,195,426).  In the third spot, Pulte Homes has 45 new permits on file for the month with a total value of $9,815,758.
San Antonio: When it came to rain, San Antonio experienced the worst of it in October, which may have impacted new construction in the area.  In comparison to August, there was a minor slump in total starts, dropping just over 25% from our August report.  Based on the latest HBW permit report for the area, 433 new permits are on file for the month. KB Homes led the area in total number of permits (51 – total value: $10,205,185), while Continental Homes of Texas came in second for total starts (44) and first for total value ($10,267,437). In the third spot, Bella Vista has 33 new permits (total value: $6,988,830) in the area for October.
New construction permit information utilized for the graphs and above listed figures was directly derived from HBW construction data reports. To gain access to the HBW database and receive custom and detailed reports on the latest permits in Texas and beyond, please contact HBW for details.