The holiday season is a perfect time to send holiday wishes and new promotions to your prospects and customers.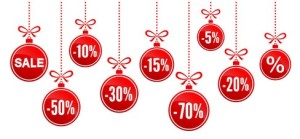 Thanksgiving is just a few short days away, and as with every holiday season, so begins the shopping season.  Although retailers benefit most from the Black Friday commotion, home builders also have many opportunities to reach customers during the holidays.  November through December is a great time to reach out to customers with messages of gratitude during Thanksgiving and happy holiday and new year wishes in December.
In addition to sending warm wishes, the holidays provide the opportunity to help consumers fulfill their gift wish lists and prepare homes for the holidays.
Celebrate the "Days"
Every year the holidays are partnered up with the highly anticipated discount days.  Black Friday, Cyber Monday and Small Business Saturday get a lot of attention, and retailers are not the only businesses to benefit.  It's not too late for you to get on the days of discount bandwagon.  Thanks to email marketing and social media, your latest promotion can gain exposure in just a few short clicks.  By offering new promotions or repackaging an ongoing or new customer discount, your business can be highlighted during the busiest spending time of year.  Here is the schedule of days and their corresponding hashtags:
Black Friday – Many businesses don't just offer deals on Friday only. Think about using this day to launch your holiday promotions for the month ahead.  Friday, November 25, 2016 #BlackFriday
Small Business Saturday – Concentrating on your local target and emphasizing the importance of small businesses, Small Business Saturday can help you reach your local community and customer base. You can gain additional exposure by listing your business and utilizing resources from shopsmall.com. Saturday, November 26, 2016 #SmallBusinessSaturday
Here are some ideas of how businesses are taking advantage of Small Business Saturday (source: MSNBC):
3. Cyber Monday – You've got just about a week left to prep your website and social media profiles for your Cyber Monday deals. As noted in a recent article by Forbes, Cyber Monday's sales will exceed $3 billion, an increase of 9.4% over last year. That's sales worth joining.  With Cyber Monday being online, make sure your website is optimized and check that your server is ready for an increase in activity.  Make sure that your promotions and brand message is consistent and seamless throughout the user experience. Monday, November 28, 2016 #CyberMonday
Although the major promotions begin this week, don't stop engaging your customers there.  Throughout the next month or so, think about gift packages that will be unique and are tailored to your clients' needs.  Consider offering maintenance packages to help clients have their homes ready for hosting the holidays.  Provide easy and accessible links and information so that your services are "wrapped", ready-to-go and packaged to make the perfect holiday gift.
For more information on construction business and marketing tips, stay connected with the HBW Blog.  To get ahead of construction activity and gain access to the latest permitting data in Florida, Texas, Georgia, Alabama and Oklahoma, contact HBW for more information on construction data reports and industry leads.