The end of the year brings a new opportunity to strengthen your marketing efforts so that you can get ahead in 2017.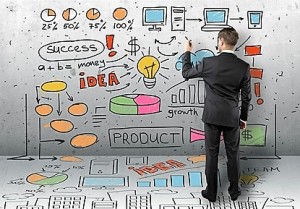 Depending on your business, the holiday season may bring your sales into an upswing, or it may feel more like a ghost town with the time off and scheduled vacations.  No matter how busy or quiet, the end of the year is an ideal time to review your progress, budgets and marketing efforts.  What worked in 2016, and what can you do without in the coming year?
When it comes to marketing, planning and creating a working schedule is essential in making your mark.  For your marketing strategy to be effective, it is important that you revisit and modify it to fit your company's growing needs and audience.  Here are some areas to keep in mind as you begin the process of updating your marketing plan for the new year:
Budget – What did you spend on marketing in 2016?  Which efforts proved valuable and which ones fell short?  Are you going to try new avenues and methods in 2017, and how do they fit in your budget?  It's easy and often common to leave a brainstorming session with grandiose ideas; although the big dreams are great for setting goals, make sure that your caviar tastes can be supported by a realistic budget.
Know Your Target – Along with reviewing your marketing expenses, take time to review your sources of revenue to assess the top clients for service and product sales.  What closed and how long did it take to close?  What are the most common attributes of your top clients and which marketing efforts brought them to your business in the first place?  Knowing your target audience is vital to the success of your marketing efforts.  By reviewing the age, location, education level and typical project type and size of your top clients, you will have a better understanding of your ideal customer.
Define Your Sources – What are the best sources for new customers?  How much of your new revenue was derived through referrals in 2016?  Which sources provided the most opportunity to reach your audience? Remember that using the same stale sources will lead to the same stale leads. Look for­­ sources that will provide you with refreshed lists without overlapping such as those gained through HBW construction data reports.
Communicate – Which methods of communication have gained the most response in the first, second and third touch points?  What works bests for your clients?  Have they preferred in-person, phone, email or text for your primary method of communication?  Evaluate your communications from this year to gain a clear focus and be prepared for improving those areas in 2017.
Know Your Competition – Knowing your competition does not mean mimicking them.  Review your top competitors to see if there is a growing need or demand in services or products that you offer but have yet to highlight.  Healthy competition is good; it can often drive higher-quality and provide an opportunity for businesses to kick it up a notch and evolve with the industry.  That being stated, remember to keep your eyes on what your business does best and its unique value-added offerings.
Review Your Content – Just as your contacts can get stale if not refreshed, so can your content.  That website that you set up several years back or the dated brochure from several seasons ago decrease in value over time – unless, of course, you update them.  Use this end of the year time to take stock of your marketing materials and all content to ensure that they accurately reflect your brand, products, services.
Although the holidays keep us busy at work and home, dedicating some time to reviewing your marketing efforts of 2016 will position you to have a powerhouse marketing plan in 2017.
For more information on construction business and marketing tips, stay connected with the HBW Blog.  To get ahead of construction activity and gain access to the latest permitting data in Florida, Texas, Georgia, Alabama and Oklahoma, contact HBW for more information on construction data reports and industry leads.