With the success of your business being reliant on the skills and expertise of your team, attracting and retaining top employees is vital in today's competitive market.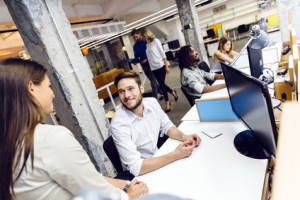 How is a business a cut above the rest? Well, it takes time, but delivering a high-quality product and offering top-of-the-line customer service is a good place to start. How does one get there? One of the answers is through developing a solid and reliable team. To create that solid team, the business must be structured in a way that attracts and retains top talent. As the old adage goes, "you are only as strong as your weakest link"; when it comes to building a winning team, the concept most certainly rings true.
Earlier this week, the Bureau of Labor and Statistics released the Job Openings and Labor Turnover Report for February. The report revealed that construction job openings have continued to rise at a rate of 2.8%, a 107-month high. The report also revealed an increase in "separations" (quits, layoffs, discharges, etc.) since January.  Although monthly and annual fluctuations are expected and do not define the state of employment in construction, there is no denying the shortage of quality and skilled professionals in the industry. According to a survey by the Associated General Contractors of America, the shortage of construction employees is evident in more than craft workers – it has also been a challenge filling salaried professional positions.
When looking at your own business, there are few things you can review and revise to make your workplace attractive to top talent.  Being attractive to the younger generation, while retaining your current key players, is important in building a winning and lasting team.  Here are five things you can do to get the ball rolling:
Strengthen Your Hiring Process – Identifying your needs for a new hire and having a clear understanding of the ideal candidate is necessary in finding the right fit. Your recruiting and screening process should follow proven and effective methods, and you will want to hire more than just qualifications…  The right candidate should also fit well with your company culture.  Many firms rush the hiring process to get someone in the door, but you should be thorough in interviewing and reference review.  It is not only important that the candidate is right for the position but that your company is right for the candidate.
Educate and Train – While apprenticeships and internships may assist in bringing in fresh talent with great potential, ongoing education and opportunities for growth keep them there. By providing training in the latest management tools, sales strategies and technology, you can keep your executive team engaged.  At the same time, your field staff can always benefit from technical and safety training that will build confidence and refresh their skills.
Provide Opportunities for Growth – As noted in the Future Workplace "Multiple Generations @ Work" survey, 91% of millennials expect to be at a job for less than three years to advance their careers. Break the job-hopping cycle and cut them off at the pass by providing career advancement opportunities within your own company. In alignment with increased responsibilities and options for promotions should be growth potential in both salary and benefits. Performance-based bonus structures are a great way to provide a built-in system for growth for your more experienced employees and can also serve as a level of motivation for your entire team.
Be Flexible – where possible.  This is not to say that everyone should make their own schedule and bring their dogs to work every day, but allowing flexibility for the personal life of your team will in turn make them more productive and refreshed each day. Options for working remotely, freelancing and having flexible schedules are just some of the ways a business can offer flexibility that can reduce stress and add to longevity.
Lead with Purpose – Having an "A" team means having "A" players, and high performing people need to have purpose in their work. Being a part of a healthy company culture with a clear mission and purpose is vital in developing a strong team and keeping them engaged.  Make an effort to announce and recognize team and individual accomplishments.  Show your appreciation with employees of the month and by highlighting the latest new project or secured job. Motivating your team entails more than just a few "attaboys" – By having collaborative meetings and sharing successes and best practices, your winning team will serve as motivation for each other.
Attracting and retaining top performers is not an overnight process, but neither is the process of building a successful business.  Consider the amount of time you put into planning and creating your company; the same level of dedication and focus must be taken in developing your employees.  By having a company culture and workplace that offer ways to be rewarded and growth potential, you open the doors to new talent and can begin building a winning team that will thrive with your business.
For more information on construction business tips and industry updates, stay connected with the HBW Blog.  To get ahead of construction activity and gain access to the latest permitting data in Florida, Texas, Georgia, Alabama and Oklahoma, contact HBW for more information on construction data reports and industry leads.