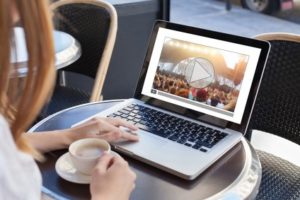 As a construction professional, chances are website design is not one of your top priorities.  And although website design can and should be left to the professionals, the content and image that you present should have your signature all over it.  Nobody knows your business, and your clients, better than you, and having a landing page that has a greater probability of converting viewers to customers will require some time and input from those who know your audience and brand.
When reaching out to HBW leads, it is important to provide easy ways for your prospects to learn about your product, request a free quote and contact you for more information.  By sending them to a landing page, whether it be the home page of your website or a page designed for a specific promotion, you can give prospects a one-click entry into their new home or remodel.  Here are five tips for making a landing page worth the visit:
Set a Goal – Before you can make your landing page effective, you will need to know what defines it as effective. In other words, what is your goal for the visitor?  Do you want them to watch a video? Request an estimate? Click on a link? Share your page on social media?  Once you identify your goal, designing your landing page should be revolved around getting the site visitor to that next step.
Know Your Audience – It is easy to fall into the "safe zone" when creating a web page. There are hundreds of templates out there that make creating a landing page easy for you, but it may not be the answer for them.  To create a page that makes an impact it will need to stand out from the crowd.  One way to make it "pop" is to design the page specifically for the audience you are seeking to capture.  For example, if you are approaching new homeowners, have images and content that speak specifically to the concerns of new homeowners.  While casting a wide net may work well for some marketing efforts, your landing page should be very specific to the voice of your audience.  You can always create and revise landing pages for other campaigns and audiences in the future.
Develop Content – More than just for the purpose of improving SEO, your copy and content should be compelling and drive the viewer to your goal for the page. Most landing pages will have general blocks including headline, body text, call to action and footer.  Your headline should be just a few words that grab their attention.  The body of the text should be your primary message, clear and concise.  Your call to action is what will be defined by your goal (the action you want them to take), and your footer should hold your contact information, social links and standard company information.
Create a Call to Action – A call to action should align with your goal. The method you use should be clear and all content should drive the visitor to the form, link or buttons that you ultimately want the viewer to "click".  Your call to action should be one of the first things that the page visitor sees and it should stand out visually (bold, color block, highlight) so that it simply can't be missed.
Choose Strong Images – Although it is easy to want to dress a landing page up to make it more appealing to the eye, images without intent often do more harm than good. One powerful image that is interesting and engaging will make a stronger first impression than multiple images that are simply filling blank space.  Choosing just one or two powerful images can be one of the most challenging of tasks because it requires committing to a specific message and perspective, but effective landing pages are just that… specific and focused.
While you will ultimately need to spend more time on your jobsite than on your website, you may find that by taking a little time to design a clear and targeted landing page, your website can increase the number of jobsites you have on the books in the future.
For more information on construction business and marketing tips, stay connected with the HBW Blog.  To get ahead of construction activity and gain access to the latest permitting data in Florida, Texas, Georgia, Alabama and Oklahoma, contact HBW for more information on construction data reports and industry leads.