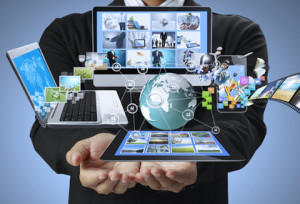 Truth be told, the construction industry has a reputation for being one of the slower industries for adopting and integrating new technology.  According to a survey conducted by KPMG, the construction industry isn't taking full advantage of new technologies for workflow management and building performance monitoring.
From the surface, this data can be quite surprising considering the massive and impressive structures that are being constructed and improved upon each day.  Although the construction industry is well-positioned for technological disruption, construction professionals seem the most difficult to motivate and shift their mindset.  The above listed survey found that most construction firms are waiting for competitors to take the first step toward the adoption of technologies to streamline their workflows and improve their data collection including but not limited to integrated project management information systems, remote monitoring, smart sensors, robotics and automation.
In addition to technology making workflow and project management easier, technology is also in high demand from consumers.  Think about it… How do you expect your own customer service experience to be when buying something for you or your family?  Chance are that you expect immediate responses, one-click access to an estimate or report, ability to swipe, scan or purchase online… The list goes on.
The same ease of access that you expect in your own experience should be offered to your customers.  The big players in technology and retail from Amazon and Apple to Google services are used by consumers daily, no matter the industry. Additionally, consumers are doing their research and becoming more educated about their purchase before committing to any one service or product.  For this reason, you and your sales team should be prepared for an informed customer and have information ready and easy to view from your website, social media profiles, emails, etc.
Technology can and should be seamlessly integrated into your company's overall customer service experience.  From how they learn about your services to communication, billing and project status reports, the way you interact with your client reflects your professionalism and knowledge.  Even the most skilled of craftsman can come across as inexperienced when communicating through antiquated methods or providing information through outdated literature and publications.  Essential and easy upgrades include mobile-friendly websites, online invoicing and payment processing, live project updates and status reports, active social media profiles, online chat for customer inquiries and support, online scheduling/booking of consultations and more. While these upgrades won't happen overnight and certainly won't address the industry's slower pace for adopting other advanced technologies, you can gradually bring your customer engagement into the present, strengthening your business and future client relations.
For more information on construction business and marketing tips, stay connected with the HBW Blog.  To get ahead of construction activity and gain access to the latest permitting data in Florida, Texas, Georgia, Alabama and Oklahoma, contact HBW for more information on construction data reports and industry leads.