Industry trade shows are happening year-round. To help you plan, here is a list of some of the industry expos happening in the near future.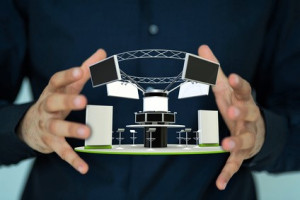 Trade shows and conventions are in abundance in our industry.  There may be a local expo that you attend every year, or perhaps you are looking to check out a new event in another city.  Whether you are an exhibitor or an attendee, trade shows will take a toll on your time and budget.  For this reason, it is important to choose shows and conventions that are the best match for your business and provide the most opportunities for education, exposure and/or networking.
Here is a quick look at some industry events on the calendar that are coming soon and may be of interest to you and your business:
When: November 4-6, 2016
Where: Caesar's Palace – Las Vegas, Nevada
Although it may be a little late to add this one to your schedule, if you are in the Las Vegas area, the 2016 Design-Build Conference is just a few weeks away.  The event caters to Sr. Vice Presidents and higher level positions.  The website states that it expects more than 2,000 industry professionals from the entire A/E/C community, from owners who are new to experienced in design-build project delivery.
When: January 10-12, 2017
Where: Orange County Convention Center – Orlando, Florida
International Builders' Show is held by the National Association of Home Builders (NAHB) and is the largest light construction building industry trade show in the United States.  Every year it attracts more than 60,000 visitors representing 100 different countries.  Exhibitors include global manufacturers and suppliers offering a look at latest in materials and technology for all types of building (wood, concrete, stone and brick).
When: January 10-12, 2017
Where: Orange County Convention Center – Orlando, Florida
KBIS is happening at the same time as IBS next year, but if kitchen and bath is your specialty, it is worth checking out.  The event will host 500+ products in the industry through an interactive platform showcasing the latest materials, trends and technology.
When: January 16-20, 2017
Where: Las Vegas Convention Center – Las Vegas, Nevada
An international event, WOC represents the concrete and masonry industries.  The event offers a wide variety of options in products and education from material handling and construction technology to concrete repair and decorative surfaces.
When: January 17-20, 2017
Where: Mandalay Bay Convention Center – Las Vegas, NV
This annual event serves the floorcovering, stone and tile industries.  It is a combination of three international trade shows (SURFACES, StonExpo/Marmomacc Americas and TileExpo) in one 4-day event, including products, demos, manufacturers, suppliers, education and more.
The list could go on, but this is just a short list to get you started as the events above are fast-approaching.  It is always best to plan in advance, not just for the purpose of budget, but to make sure you and your team make the most of the opportunity.  Take advantage of the networking events, early registration, hotel and partner discounts. Prepare your team with objectives and expected outcomes so that everyone has realistic expectations and a purpose for their attendance.
For quick tips on making the most of trade shows, check out the previous post Mark Your Calendars for Trade Shows.  For more information on construction business and marketing tips, stay connected with the HBW Blog.  To get ahead of construction activity and gain access to the latest permitting data in Florida, Texas, Georgia, Alabama and Oklahoma, contact HBW for more information on construction data reports and industry leads.