New residential construction in Florida is strong and growing with five out of six regions having their best quarter of this year in Q3.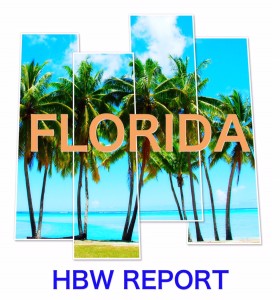 With nearly 49,500 housing starts in Florida through the third quarter of 2016, it is no surprise that approximately 1,000 people move to the Sunshine State every day.  With the steady growth in population, residential construction must meet the demand.  Through the third quarter of this year, the demand is being met with year-over-year growth of 14% in housing starts throughout the state.  From the northwest down to the southeast, every major region reflects an increase in residential construction permits starting at 6% and going as high as 25%.
Northeast Florida had the highest year-over-year increase  (25%) in housing starts; as of the closing of the third quarter, there were more than 7,850 new permits on file for the northeast region, and there has been quarter-over-quarter growth since the start of 2016.  The area experiencing the greatest concentration of housing starts through Q3 is Central Florida.  With a year-over-year increase of 14%, Central Florida tops the list with close to 11,000 housing starts; the Central Florida county of Orange is also on top in comparison to other counties throughout the state with 4,670 new residential construction permits on file with HBW (thru Q3).
The third quarter was the best quarter so far this year for the five major regions of central, west, southeast, southwest and northeast Florida. With a 16% increase in new residential construction since 2015, West Florida bumped up one spot since Q2 to rank second highest for total housing starts with more than 9,900 new permits through Q3.  Not far behind, the southwest region was third highest with 9,478 new permits through the third quarter.
When reviewing the counties with the greatest amount of new residential construction on file, the lineup for Q3 has remained consistent with Q2, as the top counties have sustained their momentum.  The only exception is that Collier County (SW) bumped up on spot, and Pasco County has now joined the top ten list.  As previously mentioned, Orange County was on top for total housing starts through the third quarter.  Next in line, Hillsborough County in the Tampa area held on to the #2 spot with 3,433 housing starts, a 23% increase in comparison to the same time last year.  Another county exhibiting significant growth is St. Johns County in the Jacksonville area; St. Johns ranked third highest with 2,707 housing starts, having an impressive year-over-year increase of 32%.
Higher value residential construction (>$500k) has been steady throughout the state.  With 3,445 housing starts valued above $500k through the third quarter, Florida is tracking to exceed totals from 2015 before the end of this year.  Although southeast Florida did not have the highest concentration of housing starts, the tourist destination came out on top for higher value construction.  Through the third quarter of this year, there were 930 housing starts valued greater than $500k in sunny southeast Florida, with Palm Beach and Miami leading the way. Not far behind, Central Florida ranked second highest for residential construction greater than $500k with 829 new permits through Q3; more than half of the higher value construction activity of Central Florida took place in Orange County.
Information utilized for the graphs and above listed figures for Florida residential construction was directly derived from HBW construction data reports. To gain access to the HBW database and receive custom and detailed reports on the latest residential and commercial building activity in Florida, Georgia, Texas, Alabama, and Oklahoma, please contact HBW for details.