Although Texas has experienced a 6% dip in new residential construction through Q3, areas like San Antonio and Austin are ahead of 2015 figures so far this year.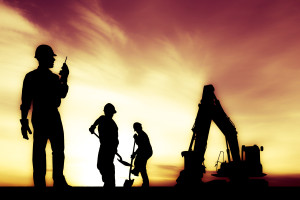 When looking at the metropolitan areas of Dallas, Houston, San Antonio and Austin, the rate of housing starts varies across the board.  As the title of this post promises, we will take a look at both the highs and the lows through the third quarter, gaining a comprehensive perspective of the new permit data available in the HBW database.
From the start of this year through September, more than 50,400 new residential construction permits in Texas have been added to the HBW database.  Combining data from all four major metropolitan areas (Dallas, Houston, San Antonio, Austin), we find a year-over-year decrease of 6% in housing starts.  That being stated, there are a couple of metro areas that reflect increases in comparison to last year.
Austin is at the top of the list when it comes to growth in housing starts.  Through the third quarter, Austin has experienced a year-over-year increase of 17%, with Travis County showing the greatest growth in new residential construction (>29%). Also on an upswing, San Antonio has experienced a 3% year-over-year increase in housing starts through the third quarter, and Comal County is leading the area with close to a 24% increase in new residential construction in comparison to last year.
Although Dallas isn't ahead of 2015 at the current rate, it is not far behind with a slight 1% decrease in residential construction activity.  We will have to wait to see what the fourth quarter brings for Dallas; at this point, there is more than a 7% increase in housing starts in the primary county of Dallas, and homes valued over $500k are also on the rise.  Although both Dallas and Houston are on the lower side as of the closing of Q3, both metro areas have inched up 1% since the second quarter of this year, and we will watch for progress over the next few months.
Just from the perspective of growth in new residential construction, a few counties are on a high since 2015.  Travis County in the Austin area is on top with a year-over-year increase of 29.3% and more than 4,600 housing starts thru Q3.  Another county on our radar for growth is Comal County in the San Antonio area; Comal has nearly 2,000 housing starts on file, a 23.5% increase in comparison to 2015.
When reviewing housing starts with values exceeding $500k, we have found more than 2,500 new permits on file for the combined metro areas.  Dallas takes the cake with higher-value residential construction as there are 1,455 permits on file so far this year; at the current average quarterly rate of construction for higher-value homes, Dallas is well positioned to exceed 2015 figures by December.  On the flipside, Houston has experienced a significant decline in higher-value residential construction.  Although there are nearly 600 high-value (>$500k) housing starts in Houston through Q3, based on the quarterly average, the area will be at least 10% behind the previous year. As for Austin and San Antonio, both areas are slated for meeting or maybe even exceeding the previous year.  They are consistent and on course from a year-to-year perspective with Austin having more than 320 housing starts and San Antonio having nearly 150 housing starts with values in excess of $500k.
When looking at top counties for total housing starts through Q3, the counties with the highest concentration of new construction are mostly in Dallas and Houston and consistent with the second quarter of this year.  Although both areas are on a low in comparison to Q3-2015, the areas are expansive and new construction is certainly plentiful in specific counties.   Despite the 12%+ year-over-year decrease in housing starts through Q3, Harris County of Houston had the most housing starts on file for all counties reviewed throughout the state with 10,790 new residential construction permits added to the HBW database.  Collin County of Dallas came in at second highest statewide with 5,424 housing starts, a nearly 5% increase in comparison to 2015.  Since the start of this year, Collin County has exhibited incremental growth in new permits each quarter, and if the fourth quarter follows suit, it should have an even greater gain on 2015 by the end of the year.  In at the third top spot, the previously mentioned county of Travis in Austin has 4,621 housing starts on file through Q3 and is already well ahead of last year.
Information utilized for the graphs and above listed figures for Texas residential construction was directly derived from HBW construction data reports. To gain access to the HBW database and receive custom and detailed reports on the latest residential and commercial building activity in Florida, Georgia, Texas, Alabama, and Oklahoma, please contact HBW for details.