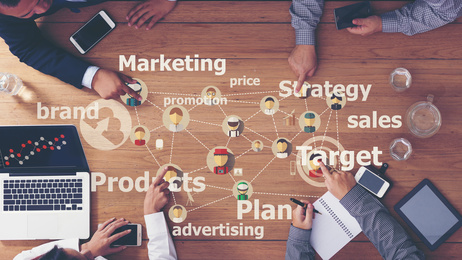 What is content marketing?  Well, if you have been following the HBW Blog, you probably have a fairly good idea.  Just check out our previous posts "7 Tips for Content Marketing Success" or "Seven Apps for Improving Social Content" to gain insight on ways to use and improve content in your marketing efforts.
For the purpose of this post, we are going back to the basics and revisiting the fundamentals of content marketing and how it plays an important role in your strategy.  According to Oxford, content marketing is "a type of marketing that involves the creation and sharing of online material (such as videos, blogs, and social media posts) that does not explicitly promote a brand but is intended to stimulate interest in its products or services."  In other words, it is everything that you put on the internet and social media that is not a direct ad – It is a way to share your brand and company activities without aggressively or directly selling to the viewer.  We are essentially being inundated with content marketing every day, and most of the time the viewer is completely unaware of it.  From videos and blog articles to your daily social news feeds, you are living in a world that is engrossed in content marketing.
So, how does content marketing benefit your business? In short, it increases your visibility, integrity and authenticity when done properly.  Content marketing is a necessity in the current digital marketing landscape, and it is one of the most practical and effective parts of your marketing strategy.  A few of the many benefits include:
More Content – Yes, it sounds simple, but by having more content on your site and social profiles, you are offering more ways and information to engage your target audience. Stale and outdated content makes for a stale and outdated looking business in the digital world, so it is important to keep the content flowing, fresh and relevant to the latest buzz within your business and industry.  By having new videos, stories, case studies and regular activity on your social media profiles, you are keeping your brand front and center, as well as demonstrating that your business is active and informed.
More Visibility – With every new post that you add to a blog or website, you have just added another page that will be indexed by Google. Increased pages and better-quality content provide your business with more opportunities to rank for more search inquiries.  For this reason, it is important to know the keywords and topics that are most frequently searched by your target audience and to include them in the body and headers of your posts, stories and videos.
More Credibility – When viewers access your content, they are immediately forming an impression of your brand. Content that is helpful, informative, professional and speaks to the viewers' needs will ultimately increase your credibility and reputation.  Additionally, it can expand your reach by being shared by other reputable sources within the industry; with your content being published by a third party, it is likely to show up in your target audience's news feeds which builds an additional layer of trust and reinforces your company's position as a leader in the industry.
For more information on construction business and marketing tips, stay connected with the HBW Blog.  To get ahead of construction activity and gain access to the latest permitting data in Florida, Texas, Georgia, Alabama and Oklahoma, contact HBW for more information on construction data reports and industry leads.