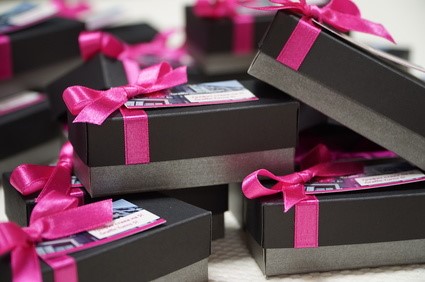 Black Friday has come and gone, and many of us are still in the midst of Cyber Monday sales that have now become "Cyber Week", but believe it or not, the seasonal sales wave has just begun.  There are still a few weeks of gift-givers in search of the perfect present for their friends and family, making it the ideal time for you to spruce up your marketing efforts.
Here are a few easy tips that you can apply to your marketing strategy now to make the most of the holiday rush and get in front and center of your target audience:
Make it Easy – This time of year can be overwhelming for shoppers, and often it is challenging to work through the noise and figure out the perfect gift for everyone on their lists.  For this reason, make it easy for shoppers by offering several unique gift suggestions.  Consider aligning with a corporate partner to offer gift combinations, bundles or discounts.
Give Thanks Early – Don't wait until the last weeks of December to send a holiday greeting to your customers.  Rather, send out holiday "thank you" emails and/or cards that show your gratitude for their business in the first weeks of December; this is also a good time to offer additional discounts, a gift guide and referral incentives.
Make the Most of Mobile – According to a recent article by Mashable, the future of shopping has gone mobile, and the proof is in this year's "Black Friday" sales.  Based on a  holiday shopping report by Adobe, Black Friday 2019 saw a total of $7.4 billion in online sales, with $2.9 billion coming from consumers making purchases on their smartphones; this officially made "Black Friday" of 2019 the biggest U.S. mobile shopping day on record.  Due to the fact that smartphone purchases made up 39 percent of all e-commerce sales (a 21 percent increase over last year), it is crucial that you set your email marketing, website, landing pages and online stores (if applicable) to be optimized for mobile viewing.
Get Camera Ready – While you will most likely send holiday greeting cards in the mail or by email, don't overlook the power of video for sending a holiday message to customers.  According to Wordstream, 64 percent of consumers make a purchase after watching branded social videos, and the power of video marketing continues to grow. In previous posts, we have explored video for the purpose of marketing your products and services (instructional, behind-the-scenes, portfolio and project highlights), and the holiday season is a great opportunity to use video for connecting to customers.  Videos may include a creative holiday greeting, personal holiday messages from employees, or a peek into your own holiday parties and/or seasonal preparations.  While you always want to maintain a professional appearance, a holiday video can also be a chance to show a lighter and more personal side to your business.
The holiday season gives all of us a chance to celebrate and focus on things for which we are grateful, and by extending your own company celebrations and appreciation to your customers, you can connect with them in a way that is special, sincere and memorable for them well into the new year.
For more information on construction business and marketing tips, stay connected with the HBW Blog.  To get ahead of construction activity and gain access to the latest permitting data in Florida, Texas, Georgia, Alabama and Oklahoma, contact HBW for more information on construction data reports and industry leads.