Small Business Saturday is happening November 25th, and you have just about one month to make it a profitable day for your business.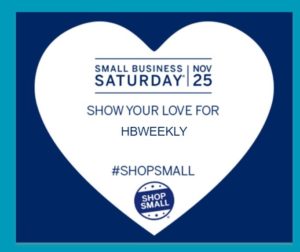 When most of us think of Small Business Saturday (November 25, 2017), we think of a smaller version of Black Friday – long lines, overrun retailers and the holiday shopping rush that ensues this time of year.  While Small Business Saturday is intended to give small retailers a similar boost to their larger chain store competitors, it is also designed to bring attention to small businesses in the community.  Beyond driving traffic to the "Mom and Pop" boutique down the street, if used properly, it can drive attention and traffic to your small home building or remodeling business.
In order to be properly prepared and take advantage of this national day dedicated to small businesses, here are a few tips and resources that can get your marketing efforts and materials in gear:
Use #ShopSmall Marketing Resources – American Express provides a very easy-to-use online tool for creating banners and images that feature your business in the #ShopSmall logo.  Take advantage of the free marketing resources provided in order to be a part of the movement and get noticed.
Spread the Word on Social Media – Now that you have a few images and #ShopSmall resources in place, start spreading the word.  From social media to your website, make your participation in Small Business Saturday known and link it back to your latest offer or discount, website or a landing page specific to featured holiday deals.
Launch an Email Marketing Campaign – Whether you add Small Business Saturday to an e-newsletter you already have in place or launch a specific campaign leading up to the holidays, now is a great time to give your email marketing campaign a little extra boost.  After all, this is the start of the holiday season, and there are plenty of home services, remodeling and seasonal upgrades that can be packaged to fit your prospects' holiday and winter needs.
Find Small Business Partners – Get in on the hype and Small Business Saturday events in your area.  Show your support on social media of other local small businesses and find non-competing partners to do the same for your business.  If you want to take it a step further, you may consider rallying businesses to participate by becoming a "Neighborhood Champion" which provides an opportunity to network with neighboring businesses and discover potential partners.
Launch a Direct Mail Campaign – Turn your direct mail into holiday mail.  Consider using this time to change up your direct mail approach by bringing attention to your participation in Small Business Saturday.  This time of year also serves as a great time to offer discounts and seasonal pricing as a gift to new clients, as well as a chance to thank and wish your current clients a happy holiday season.  To ensure that your efforts are effective, review your contact lists for accuracy and secure lists of new prospects from reputable sources like HBW so that you know data is valid and up-to-date.
From networking in your community and social media to developing discounts and programs specific to the seasonal needs of homeowners, Small Business Saturday provides your business a starting point for launching a successful holiday marketing campaign.
For more information on construction business and marketing tips, stay connected with the HBW Blog.  To get ahead of construction activity and gain access to the latest permitting data in Florida, Texas, Georgia, Alabama and Oklahoma, contact HBW for more information on construction data reports and industry leads.