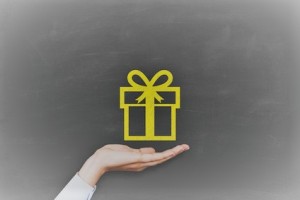 With the holidays comes the opportunity to show gratitude and reward your team for a job well done.  Some of your team may already have a holiday or end-of-the-year bonus structure in place, but don't let the expected bonus deter you from recognizing your employees in more creative ways.  Performance-based bonuses shouldn't be considered equivalent to an actual holiday gift.  Performance-based bonuses are part of the compensation structure and should be considered separate from holiday gifts.  From field workers to office staff, everyone appreciates recognition for their hard work, and the holidays are the perfect time to reinforce a positive company culture that is supportive of your team and their families.
This year, the major holidays of Christmas and New Year's Eve take place on the weekend, which will not provide much holiday break time during office hours.  Unless your business is closing its doors for the weeks during the holidays, which is not an option for most, many employees may need a little boost to remind them that you value their time and effort.  Here are a few things to consider when giving thanks through personal and warm wishes for the holiday season:
Company Party – If you haven't already booked a venue and secured a menu, chances are your holiday party will need to take place in your office or conference room. Although planning ahead is ideal, don't discard the idea of a party just because we are already in December. It's not too late to celebrate.  Depending on the size of your party (and budget), you may be able to book a nice luncheon or dinner at a nearby restaurant.  If that's not an option, call the caterers at a favorite lunch establishment, and have a party at your office or warehouse.  Such casual gatherings provide employees a chance to be social and connect, while providing you a chance to personally thank your team.
Gift Cards – Gift cards can be purchased in bulk, sometimes with a discount, and there's no wrapping required. Everyone appreciates a credit card gift card that can be used anywhere, but getting one for their favorite coffee shop or lunch spot can provide an additional personal touch.
Paid Time Off – This option is great for this year being that the holidays are on the weekends. Surprise your team with one or two extra paid days off.  You may consider the Monday after Christmas and a day before or after New Year's weekend.
Not So Equal – If you give one employee a holiday gift, then all employees should receive something for the holidays; that's the equal part. As for the not so equal part, don't think that all gifts and holiday bonuses must be the same thing or for the same amount.  Although gift amounts don't need to be equal, they most definitely should be consistent.  It is easiest to simply give the same gifts to all employees, but if you choose to give tiered gifts, make sure that it is not personal or may be perceived as favoritism.  Your safest bet would be to vary the gifts based on clear boundaries such as employee classification (administrative staff, upper management, field staff, etc.).
Check Last Year – Unless you have informed your staff in advance of cutbacks in holiday giving, make sure you are on par with the previous year. Although holiday gifts of any amount are appreciated, your employees most likely have expectations based on the gifts they received last year.  Don't give less than last year, and if you choose to give more, know that you will be raising and setting the bar for next year.
From gift cards and bonuses to paid time off and parties, there are plenty of options for showing your team appreciation this holiday season.  More importantly, remember to say "thank you" and provide a personal greeting and well wishes.  Along with it being the season of giving, it is also a season of gratitude.  Closing the year on a positive note will allow you and your team to be refreshed and ready for a great start to 2017.
For more information on construction business and marketing tips, stay connected with the HBW Blog.  To get ahead of construction activity and gain access to the latest permitting data in Florida, Texas, Georgia, Alabama and Oklahoma, contact HBW for more information on construction data reports and industry leads.