Out of the hundreds of active builders and thousands of housing starts throughout Florida last month, Tampa stood out on top with the greatest amount of residential construction permits in November.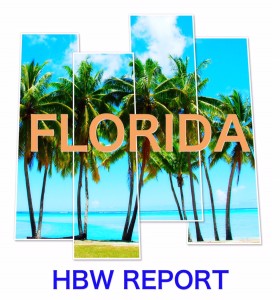 As HBW subscribers are already aware, thousands of new Florida residential construction permits were added to the HBW database last month.  Out of the more than 2,700 housing starts and approximately $792M in construction value on file for November, Tampa pushed up three spots since October to lead with 662 new residential permits and more than $179M in construction value for the month.  According to a recent article by Forbes, Tampa is a top area for real estate investors, ranking #5 in the country as investors reported experiencing above average returns (17.62%) over the past year (source: Forbes). The Tampa area was also listed as a top market for overall value (source: Bankrate.com) based on data through Q3 of this year.  With the closing of Q4 around the corner, we will wait and see how the area ranks to other regions within the Sunshine State for 2016.
As for November, Tampa was just above the southwest portion of the state for housing starts.  In the southwest there were 648 housing starts last month with a construction value exceeding $177M. Next in line, Orlando ranked third highest with nearly 600 housing starts while having the highest total construction value of almost $183.5M.  In the Orlando area, the bulk of new construction was centered in Orange and Osceola counties, but every county reviewed had some level of residential construction activity and a variety of new permits.  Closing the list, Jacksonville and SE Florida had 480 and 328 housing starts for the given period.
When reviewing the average value of new residential construction in the five major areas covering Jacksonville to South Florida, there was a large spread of more than $130k from top to bottom.  Since October, every area increased in average value apart from Tampa which had a nominal month-to-month drop leaving it consistent with October.  On top, Southeast Florida continues to hold the highest average value which was just over $390k last month.  Toward the bottom of the scale, Jacksonville has maintained the lowest average value month after month at $259.5k in November.
As for the rankings from a county perspective, Orange County in Orlando maintained its statewide lead for total housing starts with 242 new permits and more than $86M in value last month.  In Tampa, Hillsborough County ranked second highest for total housing starts with 204 new permits and nearly $69M in total value.  In Jacksonville, the county of St. Johns made a huge leap from #10 in October to ranking third highest in November with 201 housing starts and close to $59M in total construction value.
Information utilized for the graphs and above listed figures for Florida residential construction was directly derived from HBW construction data reports. To gain access to the HBW database and receive custom and detailed reports on the latest residential and commercial building activity in Florida, Georgia, Texas, Alabama, and Oklahoma, please contact HBW for details.