Happy New Year, almost.  With the new year being just a day or so away, it means new beginnings for your business, as well as tying up loose ends from 2016.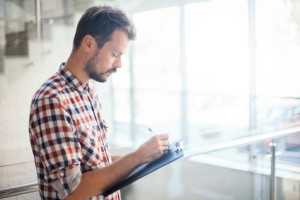 If your business is anything like the rest of us, chances are the past week or so have not been the most productive.  From the holidays to vacations, many businesses are down a few team members and up on holiday pay.  Although the down time is an opportune time to get organized and prepare for the new year, not everyone planned accordingly.  Even though the first business day of the fiscal year (for most of us) will begin Monday, it's not too late to prepare for the new year.  Procrastinators can breathe a sigh of relief because with a few reminders and an easy checklist, you will be able to welcome the new year in an organized fashion.  Here is a quick checklist to cover the basics that lie ahead in the coming weeks:
Financials – Although most of the major work behind your financial statements have most likely been reviewed and approved monthly, you should tie up payroll, run year-end reports (P&L, Balance Sheet, Transaction Details), organize tax documents and prepare 1099s to ready your business for the coming months. In addition to collecting and organizing all essential documents, you should have an appointment set with your accountant to ensure that everything is ready and filed in a timely manner.
Performance Reviews – As previously mentioned in our recent post "Rewarding Employees During the Holidays", holiday bonuses and performance-based bonuses are two separate entities. Don't let your holiday bonus overshadow the importance of a proper and thorough annual review.  Annual reviews most commonly take place between December and February, and they are the perfect time to review successes and challenges of the previous year, as well as set clear plans for development and expectations for 2017.  Performance reviews are also an opportunity to show appreciation to your team members by recognizing their hard work and providing bonuses based on performance or an agreed upon structure.
Team Development – Although your budget for 2017 is most likely set, don't forget to leave room for team development. From education to new hires, your team's growth should match the growth expectations for your business.  With increased volume, there should be an equal and comparable increase in your manpower and capacity.  If you are planning to focus on new or existing services, make sure your team is sharp and ready to handle the increased focus and demand.  Within the first couple of weeks of the new year, it may be beneficial to hold a team meeting to provide details on plans for the coming year (especially additions and modifications) and direction to each department so that everyone starts on the same page.
Technology Tune-up – This item also goes along with your budget, and taking stock in your current technology is another important task. Even if it is not an investment that can be made this year, take the time to plan for the year ahead.  Are your computers, mobile devices and communication services up to snuff?  Are your software applications and systems updated and able to handle your workload efficiently and effectively?  Check that you have everything in place to protect your business data and customer data such as credit cards and personal information.  Also, data for 2016 should already be backed up and stored for safe keeping, and your system should be checked to make sure all backups are occurring regularly and are properly scheduled for the coming year.
Cut Expenses – The new year provides a chance for reflection and review, and overhead should be included. A thorough review of your day-to-day business expenses can lead to great savings over time.  Do you need or use all of your current subscriptions to magazines or software?  Are you getting the best rate on your credit cards and other accounts?  Are you using all cell phones and data plans that are active with your phone service provider?  Even if you have a solid bookkeeper, you should make a habit of reviewing these operational services and expenses on an annual basis.
Take Inventory – Whether you sell or directly produce products, take inventory of all products or raw materials on hand at the start of the new year. Although you most likely have a running total, make sure you have clear figures recorded for the end of year inventory on January 1st to avoid having to assess the figure by counting back later.
Back It Up – Assuming that you have performed a "technology tune-up" (see #5), you should have 2016 backed up. In addition to your critical financial data and document files, remember to backup phones, email and communication files.  If company phones are not already set for automatic backup to the cloud, all team members should be required to backup their phones to avoid lost time should a phone break or be misplaced.
The closing of 2016 opens a new year and chapter for your business.  Start off strong by organizing and backing up the necessities from 2016 and using the data collected to prepare for a year of growth and success in 2017.  By checking off the essentials, you will be clearing the slate and making room for new jobs and new business in the months ahead.
For more information on construction business and marketing tips, stay connected with the HBW Blog.  To get ahead of construction activity and gain access to the latest permitting data in Florida, Texas, Georgia, Alabama and Oklahoma, contact HBW for more information on construction data reports and industry leads.