An overview of new residential construction permit data on record with HBW for the Atlanta area from January through September 2020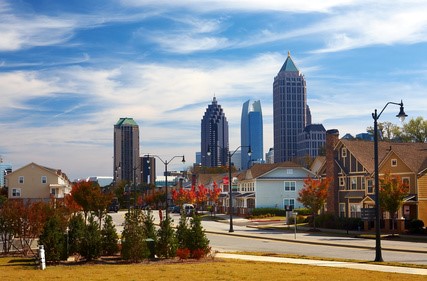 Based on HBW's latest Building Activity Trend Report for new residential construction in the metro Atlanta area, the market has experienced a 7 percent year-over-year decline through the third quarter of 2020. From January through September of this year, there have been approximately 16,500 new residential construction permits added to the HBW database for the Atlanta area, with five out of the twenty-four counties reviewed holding close to 50 percent of all housing starts.
Just looking at volume of new home construction by area (thru Q3-2020), Gwinnett County (2,524 permits) currently holds the highest concentration of new residential construction permits out of any county reviewed, reflecting a 5 percent year-over-year increase in housing starts. Next in line, Cherokee County had more than 1,600 housing starts through the third quarter of this year, reflecting a 5 percent year-over-year decrease in new home construction so far this year. Another county where new home construction is high in the Atlanta area is Cobb County – Through the third quarter of this year, there has been an 8 percent year-over-year increase in housing starts in Cobb County, resulting in more than 1,450 new residential construction permits on record with HBW.
When reviewing the latest reports for areas that have exhibited increases and growth in new residential construction, a few counties are significantly ahead of last year's figures…  Those counties include Newton (507 permits), Hall (897 permits) and Bartow (492 permits).  Since the start of this year, the counties of Hall and Newton appear to be climbing out of last year's annual decline in residential construction as both areas have demonstrated year-over-year increases of 9 percent and 13 percent respectively (thru Q3-2020). As for Bartow County, the area had a strong year in 2019 where it exhibited growth in the market, and so far this year it appears to be maintaining the upward trend, demonstrating a 25 percent year-over-year increase in new home construction.
Information utilized for the above listed figures for Metro Atlanta residential construction was directly derived from HBW construction data reports. To gain access to the HBW database and receive custom and detailed reports on the latest residential and commercial building activity in Florida, Georgia, Texas, Alabama, and Oklahoma, please contact HBW for details.