A review of construction permit data for new swimming pools in the Atlanta area through the third quarter of 2020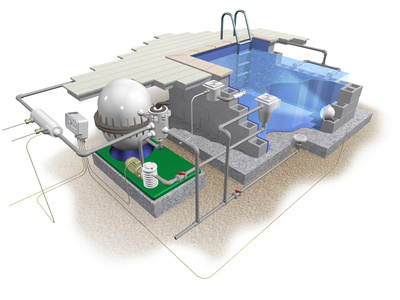 Since the start of this year (thru September), there have been 2,334 new swimming pool construction permits added to the HBW database for the Metro Atlanta area. Based on the latest HBW Swimming Pool Construction Activity Trend Report, new swimming pool construction has been on the rise in the Atlanta area since 2015, and so far this year, the upward trend appears to be holding steady as there has already been an impressive 21 percent year-over-year increase in new pool construction through the third quarter.
When reviewing the latest reports to identify where the greatest amount of new swimming pool construction activity is taking place, three counties appear to be standouts – Nearly 40 percent of all new pool construction in the Atlanta area this year has taken place in the counties of Cobb, Cherokee and Fulton.
The greatest concentration of new pool construction permits originated from Cobb County where there have been 317 pool starts through Q3-2020, reflecting a 32 percent year-over-year increase. Not far behind Cobb, the two counties of Cherokee and Fulton have had approximately 290 pool starts each through the third quarter of this year, with Cherokee County exhibiting the greatest year-over-year increase (+77 percent) in construction.
Within HBW reports, subscribers can view a breakdown of construction permit data and compare rates of growth year after year and county by county.  Using this feature of the report, we noted that there have been numerous Metro Atlanta area counties that appear to be experiencing significant spikes in pool construction, while others are showing signs of a decline.  For example, and as previously mentioned, swimming pool construction appears to be gaining traction in Cherokee County, as there has been a 77 percent year-over-year increase in pool starts since the start of this year.  Another county where pool construction is on the rise is Gwinnett County, where there has been nearly a 60 percent year-over-year increase in pool starts (thru Q3-2020), resulting in more than 260 new permits on record with HBW.
On the other hand, there are also a few areas where new swimming pool construction is limited or not taking place at all; such areas include the counties of Clarke and Banks where there haven't been any pool starts this year, as well as Clayton, Rockdale, and Newton where there have been less than 20 new swimming pool construction permits pulled through the third quarter of this year.
By using HBW quarterly reports to identify hot (and not so hot) spots for construction, contractors can be more targeted and precise with marketing efforts, as well as identify areas where their services may be in demand to determine if and when to expand their service area.  As with all HBW reports, the information about the properties, owners and projects can also be accessed, allowing contractors to gain a deeper understanding of prospects' properties and needs.
Information utilized for the above listed figures for Metro Atlanta swimming pool construction was directly derived from HBW construction data reports. To gain access to the HBW database and receive custom and detailed reports on the latest residential and commercial building activity in Florida, Georgia, Texas, Alabama, and Oklahoma, please contact HBW for details.