A new year is right around the corner, and now is the perfect time to position your business for success in 2016.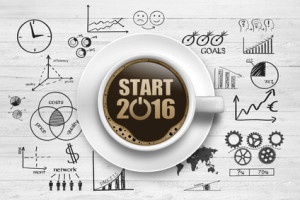 Holidays are here and the New Year is coming upon us quickly. This time of year brings the hustle and bustle of the holidays, including holiday parties, days off and a team that is ready to take some time away from the office and with family.  For your business, it's a different time – a time for review and preparation.  Before the holidays pass and the ball drops on New Year's Eve, it is important to take a little time out to prepare your business for the coming year.  Beyond the obvious financial tasks of budgeting, closing the books and meeting with your CFO and accountant, there are some important areas that can be easily overlooked and stuffed away under spreadsheets and reports.  Here are five areas that may get postponed or overlooked but are deserving of time as you prepare for a fruitful 2016:
Recognize Employees – A little gratitude can go a long way in job satisfaction and boosting team morale. Holiday bonuses are an obvious one here, but just remember not to lump them in with performance-based bonuses that may be part of an employee's compensation structure.  Although a sudden increase in one's regular direct deposit is appreciated, it does not show that you are taking time to recognize individuals and their accomplishments. Take note of the employees who have gone above and beyond, and personally thank them for their contributions.  Along with a holiday party and hand-delivered bonuses, consider creative gifts like gym memberships through a corporate program or restaurant gift certificates that can be purchased in bulk and at a discounted corporate rate. On a modest budget, consider offering additional paid vacation or a monthly subscription service for gourmet goodies or useful services.
Conduct Performance Reviews – Prior to recognizing your employees, you will need to identify their progress and strengths, along with areas that are in need of development. If you don't already have an annual performance review program in place, now is a good time to start planning. If you are just getting started, make sure you have a "green light" from your HR Department and/or legal advisor, as there are some definite boundaries and guidelines to follow.  Think of this time as a two-way street – In addition to reviewing progress and setting realistic goals for the coming year with each employee, this time should be utilized for receiving feedback from your team as well.  What do they enjoy most about their job?  What changes would they like to see in the workplace? What are their career goals, and how can you as an employer help them attain those goals?  Since performance reviews can create anxiety and concerns about job security, make an effort to put your employees at ease and create an open forum for discussion.  You may just find some untapped talent waiting to be discovered.
Assess ROI – The end of the year is a great time to review any ongoing or new investments and their value to your business. Whether you added a new position, started a new marketing campaign or invested in new equipment, calculate the return on your investment.  Are they being utilized as expected?  Are you seeing the results in your bottom line?  If you added new software or programs, is your team properly trained in and using them effectively?  By analyzing the effectiveness and value of your equipment, systems and team, you can make an informed decision on what should stay and what should go in the coming year.
Identify Market Segment – This step was probably taken early in creating your business, and you may already have a strong grasp on your target audience. Nonetheless, now is the time to review your clients and services.  Populations and areas change, as do the users of and demand for services and products.  Which services or products were in highest demand this year, and were there seasonal spikes?  Which market was strongly represented by your clients in 2015?  To make it simple – Who were your clients and which services or products were in greatest demand? By analyzing and identifying your market segment, you can customize your product, pricing and promotion for specific targets in the coming year.  This allows you to be more effective in your marketing efforts, as well as better equipped to meet the needs of your customers.
Review Pricing – According to MIT Sloan Management Review, studies have revealed that even the smallest variations in price can increase or decrease profitability as much as 20% to 50%. Those are percentages worth reviewing. To remain competitive, you don't just have to offer quality services and products. Your pricing needs to remain competitive and in line with the industry and your customers' expectations.  Take time to review the market and gain insight on how your price structure compares to the competition.  Best-case scenario, you have room to increase prices and a chance to use the New Year as a way to inform clients of the new and adjusted rates.  If you decide that your prices are landing too high on the spectrum, consider renegotiating with suppliers when possible or looking into trimming the fat with new and more affordable ways to offer the same services and products.
Preparing for the coming year takes a little extra time and review.  It's not about simply recognizing the successes of 2015; allow less successful efforts to also be a guide.  As Henry Ford once said, "The only real mistake is the one from which we learn nothing." By conducting an honest and thorough evaluation of your business activity in 2015, you will be ready to grow and realize new goals in 2016.
For more information on construction business tips and industry updates, stay connected with the HBW Blog.  To get ahead of construction activity and gain access to the latest permitting data in Florida, Texas, Georgia, Alabama and Oklahoma, contact HBW for more information on construction data reports and industry leads.