A little inspiration for restarting and refocusing in the New Year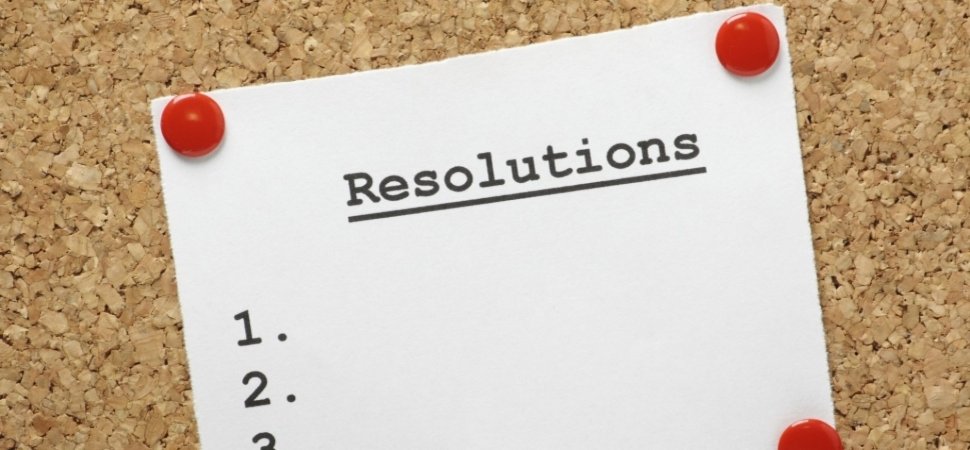 With New Year's Eve often comes the desire to restart and create New Year's Resolutions.  To make those resolutions a reality, they must be both realistic and attainable.  Often, we put so much pressure on the idea of resolutions that we bite off more than we can chew, and the new year hasn't even started.  Additionally, many resolutions are "repeats" from the prior year, which should serve as a sign that goals should be reassessed.
For this reason, we have compiled a list of new year's resolutions to consider for you, your business and your team.  Here are five resolutions to get started:
Increase Social Responsibility – A business that gives back to the community is a business that is not only making a difference, but it is getting noticed. Volunteering and charitable giving foster a sense of collaboration and community for your team, as well as provide a sense of purpose.  Making efforts to be socially responsible has the potential to increase morale, as well as attract and retain employees (especially millennials).
Expand Technology – Whether your CRM needs to be upgraded or you want to have more apps and onsite technology, improving your tech and gear is a goal that never goes out of style. Every year, something new and improved comes out on the market, often promising to make your internal operations easier and/or automated.  Whatever you choose, make sure it meets your overall company objectives, fits your budget and has been on the market long enough to prove its claims.
Embrace Innovation – Don't leave the creativity to your marketing team alone. Every team can use a little inspiration, and by embracing innovation in the new year, employees can inspire each other.  Your team holds the key to new and unique ideas for your business; after all, they are part of its success and understand daily operations better than anyone else.  How often do you solicit new business ideas from your employees? Encourage innovation by providing ways for team members to submit new and creative business ideas. This can easily be done through a suggestion box, and by creating contests and rewarding employees who submit the "most innovative" or "most creative" ideas, you can build momentum and make your business a place where innovation is both recognized and appreciated.  Consider adding monthly or quarterly brainstorming sessions specifically for sharing new ideas for management, communication, sales and more.
Expand Contacts – A business can't survive on repeat business alone. Take this year to set goals for expanding your leads and prospects.  Identify sources for leads, making sure they are accurate, current and industry-specific, such as those generated through HBW's construction permits reports.
Build Your Social Presence – Is your business taking full advantage of what social media has to offer? Through your website and social media platforms, you have the ability to reach thousands of potential customers. Additionally, when someone is given a referral to your company, sees an ad or hears your company name, their first step will most likely be to visit your website or look you up on FaceBook or Twitter. Take time to review and assess where you can improve on engaging your target audience through a properly developed social media strategy.
While this list is not comprehensive and covers only general areas of interest, perhaps it will spark a little inspiration and motivation to get your business focused on attainable goals that you can reach and even surpass in 2019.
For more information on construction business and marketing tips, stay connected with the HBW Blog.  To get ahead of construction activity and gain access to the latest permitting data in Florida, Texas, Georgia, Alabama and Oklahoma, contact HBW for more information on construction data reports and industry leads.