AIA surveyed leading architects, and the results revealed that efficiency and sustainability are at the top of the list for the construction process and lifespan of buildings.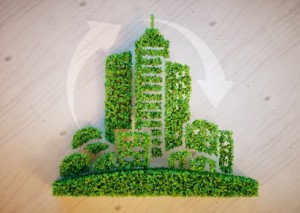 According to its most recent Semi-Annual Consensus Construction Forecast, AIA (American Institute of Architects) reports a projected increase in construction spending by more than 8% in 2016.  The report is based on projections provided by the nation's leading construction forecasters including Dodge Data & Analytics, IHS Economics, FMI, Associated Builders and Contractors, and Wells Fargo Securities to name a few.
Another area in construction expected to see growth is that of sustainability. Last month, AIA published a press release revealing results from a recently conducted survey of leading architects.  The survey was designed to gain a clearer perspective and understanding of how nonresidential building design is expected to evolve over the next 10 years. As new technologies continue to develop at an unprecedented pace, it is no surprise that the survey indicates renewable energy and innovations in technology as a driving force behind the changes to come.
The AIA report stated that the following nonresidential design trends will become increasingly more popular as sustainability continues to be an area of focus:
Water conservation
Solar power
Wind power generation
Natural "day-lighting" techniques
Smart/motion-sensor lighting systems
According to the report and architects surveyed, a number of innovative materials and tools will also gain more use and attention; some of the materials and methods expected to increase in use in nonresidential construction over the next 10 years include:
Composites
New glass/glazing technologies
BIM (Building Information Modeling) software
Alternative and efficient project delivery methods
Lean construction practices
Although green design and sustainability are not new concepts in construction, the report indicates that the focus on efficient construction and design will continue to expand and strengthen in the industry.  This growth will be driven by the increased need and demand for projects that have less impact on the environment through both design and energy-saving methods and technologies.  Ultimately, leaner processes and energy efficient designs are desired by building owners because along with saving energy, sustainable designs can also offer savings for the budget in the long-term.
To remain current on the latest construction business tips and industry updates, stay connected with the HBW Blog.  For access to detailed construction activity and permitting data in Florida, Texas, Georgia, Alabama and Oklahoma, contact HBW for more information.