Aerial photos are a great way to showcase your latest project, but if you are going to use drones, be aware of the potential liability.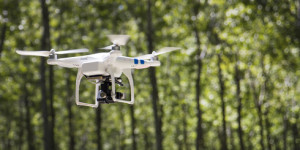 Drone use is becoming increasingly more popular, and according to the FAA, the number of drones flying the U.S. skies could reach as high as 30,000 by the year 2020.  Along with increased popularity, drones are becoming more of a liability with various risks and associated penalties.  The power of high-quality images and videos in marketing for home builders is undeniable.  An aerial video tour or panoramic view of a new roof, finished pool, landscaping project or home can be a major asset in selling to potential customers and building a portfolio.  As tempting as it may be to buy a drone and begin documenting your latest designs, take a moment to pause and consider the implications of drone use.
According to the FAA, a drone is classified as an "Unmanned Aircraft System".  What does this mean to you?  Basically, all aircraft systems must be registered, so in order to use a drone owned by you or your business, you must register it as required by Federal law.  Although there was initially a grace period for unregistered drones late last year, as of February 19, 2016, all small unmanned aircraft owners must register their aircraft if they wish to continue to operate outdoors. Registration is easy and only requires a nominal fee ($5).  Skipping the registration process can result in much higher fines and regulatory and criminal sanctions. Civil penalties can be as high as $27,500, and criminal penalties can reach $250,000 and/or imprisonment for up to three years.  Bottom line: Register your drone.  Currently, commercial use of drones is a paper-based registration process, but the forms can be accessed online; the system for commercial drones is expected to transition to web-based later in the year.
Along with registration, how and where you operate your drone is important.  Before taking flight, consider the following:
Airports – If your project involves an airport or is within 5 miles of one, contact the airport and control tower before flying your drone.
Privacy – When covering residential projects, make sure to keep the drone on your project only. Flying over other homes, backyards or other properties puts you at risk for privacy issues.  Check and follow all local laws and ordinances prior to flying over private property. If in a gated community, make sure to check their regulations (if any) as well. You may also refer to AMA's (Academy of Model Aeronautics) privacy policy as a guide.
Visual – It is suggested that drones fly below 400 feet. Always keep the aircraft in line of sight, and take note and stay clear of any potential obstacles prior to flying.
Identification and Insurance – Ensure the drone is properly marked and easily identifiable. If flying outdoors, include the name and address or AMA number of the owner on the inside or outside of the aircraft. Also, check with your insurance provider to see what may be covered and if you need to add additional levels of insurance to your policy.
No Fly Zone – Know where you can and cannot fly. In addition to airports, do not fly your drone near people, stadiums, or sensitive public facilities (power plants, correctional facilities, high-traffic roadways, sewage plants, government buildings).
Ability – Whether you or a staff member will be operating the drone, make sure they are trained and have practiced controlling the device, including take-off and landing. Just as you would when operating any vehicle, take care and stay in control.  Irresponsible or reckless use can result in fines for endangering people or other aircraft.
Laws governing the use of drones are in development as the technology is new. If you are contemplating using drones on your job site, it is advisable to seek legal advice from an attorney to ensure that you are aware of potential issues and operate your drone in a manner that limits liability. To learn more about drone safety and guidelines, check out "Know Before You Fly".  "Know Before You Fly" is an educational program resulting from a partnership with the FAA and founded by the Association for Unmanned Vehicle Systems International (AUVSI), and the Academy of Model Aeronautics (AMA).
For more information on construction business tips and industry updates, stay connected with the HBW Blog.  To get ahead of construction activity and gain access to the latest permitting data in Florida, Texas, Georgia, Alabama and Oklahoma, contact HBW for more information on construction data reports and industry leads.