Home builders in Florida had a solid opening to 2016 with nearly 4,000 housing starts in the first month of the year.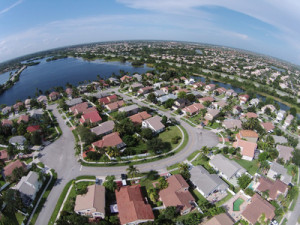 Across the state, Florida's economy and housing continues to grow, especially in Orlando and the southwest portion of the state.  In January, nearly 4,000 new housing construction permits were added to the HBW database, with a total construction value exceeding $1.1 billion.
Leading the way in residential construction as usual, the southwest region had 1,025 housing starts for the month with an average construction value of approximately $270k.  Not far behind in total permits (987 permits) and with an even higher average value ($307k), Orlando held strong as the second highest area for total housing starts in January.  Tampa held the third spot with 877 new residential construction permits and an average construction value close to $283k.  Although Jacksonville was lowest for average residential construction value ($247k+), it was fourth for number of starts with 631 permits.  As for Southeast Florida, the area continues to lead in average total construction value ($396k) but falls shorter on total starts with 434 new residential permits for the month.
Taking a deeper look, we focused on counties with the highest total number of housing starts for the month.  According to a report by the Orlando Sentinel earlier this year, Central Florida's economy continues to grow.  It is reported that job opportunities are increasing, along with salaries, and the real estate and home building industries' patterns are reflective of this growth.  More specifically, Orange County (Orlando) was #1 in January with 452 new residential construction permits and a total value of nearly $159.4 million.  In Tampa, Hillsborough County was the second highest for housing starts in the state with 325 new permits added to the HBW database and a total value in excess of $113.6 million.  Lee County (SW) was third highest for total permits (298) and had a total residential construction value of $73 million for the month.  In fourth and fifth, Polk County (Tampa) had 277 housing starts (total value: $53 million) and St. Johns County (Jacksonville) had 268 starts with a total value of $72.5 million.
Information utilized for the graphs and above listed figures was directly derived from HBW builder data reports. To gain access to the HBW database and receive custom and detailed reports on the latest building activity in Florida and beyond, please contact HBW for details.