Easy tips for tightening your social media game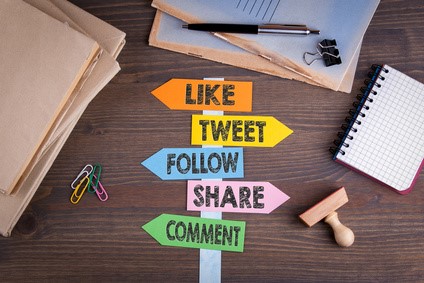 From the title of this post, many of you may be thinking that we are going to be addressing social media etiquette (or lack thereof), but for today we will not be referring to that kind of "cleaning up".  This is not to take away from the importance of keeping language and images clean on your company profiles because, really, that should be a given.  Rather, today we will review a few basic housekeeping items that should be part of a somewhat regular content audit on your social media profiles.  And if you have never conducted an audit of your content, not to worry; there is no time like the present to take a few moments to ensure that your profiles are updated, secure and accurately reflect your brand.
Here are a few social media "housekeeping" tasks to consider adding to your checklist:
Out with the Old, In with the New – It's easy to make social media profiles a depository for images, events and content. After all, every post drifts through the news feed for what seems to be a split second, only to fall down the abyss that has become social media.  The truth is that there is a high probability that new and curious visitors to your social profiles will scroll down, scan through your posts and check out your history.  For this reason, you should replace any old branding with your current logo, banners, etc., as well as remove or provide updates to posts that reflect products, pricing or services that are no longer offered.
Reconnect – A common issue with managing social media profiles is responding to feedback, comments and messages. Not to worry – You are not alone.  Most business owners overlook a message now and again, but don't allow it to be a reason to ignore it.  Where and when appropriate, follow up and reconnect with inquiries, requests and responses (positive and negative) that may have been missed along the way.  Better late than never.
Secure Your Accounts – Whether you have one or several social media account managers, you should have a system in place for regularly securing accounts. What this essentially means is that passwords for profiles should be strong and changed on a quarterly basis.  Additionally, users/members of the page should be reviewed to verify that each user has the appropriate level of access (admin or limited user) and is still employed by your company.
Get Real – The bots in the world of social media are simply unavoidable. From spamming a blog's comments section with the latest phishing scam to relentlessly following and messaging you on Twitter, they are out there.  For this reason, it is important to eliminate fake followers, bots and connections that don't abide by network guidelines and/or post questionable content.
Say "Good-bye" or Start Over – You may find that you have been more successful in engaging your audience on one social platform more than another. And while building a following and presence in each platform takes time, don't hold onto something that isn't working.  Some networks are just a better fit than others for different companies, and it is completely acceptable to try again or simply eliminate your profile on a network where engagement and activity are nil.
For more information on construction business and marketing tips, stay connected with the HBW Blog.  To get ahead of construction activity and gain access to the latest permitting data in Florida, Texas, Georgia, Alabama and Oklahoma, contact HBW for more information on construction data reports and industry leads.