With Earth Day just around the corner (April 22, 2017), it is a great time to look at earth-friendly efforts and solar statistics throughout the U.S.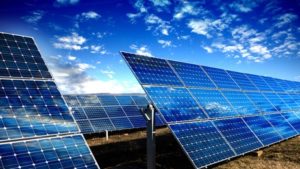 Sustainability – It is a word often used and a concept that is becoming increasingly more important in the construction industry.  From solar and earth-friendly materials to energy, recycling and waste management, there is a lot of growing room for construction businesses to integrate green and sustainable materials and practices into their daily operations.
Last year around this time, we explored 10 Ways to a More Sustainable Home.  Today, we recognize Earth Day (April 22nd) and the efforts that are already in place and making headway in solar throughout the U.S.  Which states are leading solar capacity?  Which businesses are installing solar on their buildings?  Here's a look at the latest statistics offered by the Solar Energy Industries Association on solar capacity in 2016:
Solar has been taking off from the start, and it is only getting better.  Along with solar becoming more affordable, installation of solar panels has been up year-over-year. According to the Solar Energy Industries Association (SEIA), in 2016 14,800 megawatts of solar PV (to reach 42.4 gigawatts capacity) was installed in the U.S.; this is enough to power 8.3 million homes!  Moreover, the solar industry is on track to nearly triple in size by 2022. (source: SEIA.org)
When comparing states, not surprisingly California is on top in ranking based on the cumulative amount of solar electric capacity installed last year.  The Golden State really shines (pun intended) in the solar market, as it is ahead by leaps and bounds over other areas in the U.S.  In 2016, California led in the number of solar jobs added (>100k) and capacity installed (18.3k MW = 4.7M+ homes), leaving a massive gap between first and second ranking states.  Positioned in second for solar capacity installations is North Carolina.  With just over 3k MW of cumulative capacity and a homes powered equivalent of 341k, North Carolina is making its presence known in the solar industry.  Arizona came in a close third with nearly 3k MW of cumulative capacity and a homes powered equivalent of approximately 446k homes.
Major corporations are also jumping on the solar train.  Last year, nearly 1,100 MW of capacity installed could be accounted for at 2,000 corporate solar user locations.  As of 2016, the amount of solar installed by top U.S. corporations is enough to power 193,000 homes.  By now most of us have heard of IKEA's commitment to solar power (91% of stores powered by solar), but did you know that Target ranked #1 for corporate solar users last year?  That's right, Target was on top with 147.5 MW.  And Walmart, with its solar-powered stores being visited by 7.3 million people each week, ranked second with 145 MW.  The corporate leader that came in third was not a superstore retailer; rather, it is a San Francisco based industrial real estate and warehouse logistics management company.  While not a household name, Prologis is attracting attention for its solar capacity in the corporate world by having nearly 108 MW on record.  Rounding the top five list for last year are Apple (~94 MW) and Costco (50.7 MW).
While the above listed top five corporations for solar made a mark in 2016, other companies are making plans to integrate solar energy into their operations in the coming years.  For example, Amazon.com was recently reported by The Seattle Times to have plans for solar panel installation in 15 U.S. fulfillment centers by the end of this year.  Additionally, the e-commerce behemoth expects to have 50 facilities (including international) partially powered by solar within the next three years.
While solar is just one part of the sustainability puzzle, it is an important part of our growing industry.  As a construction professional, if you haven't already encountered the demand for and use of solar, you will very soon.  In addition to consumers having greater access to information about solar energy and its benefits, the construction industry is becoming more aware of ways to incorporate sustainable practices and products into projects and business.
For more information on construction business and marketing tips, stay connected with the HBW Blog.  To get ahead of construction activity and gain access to the latest permitting data in Florida, Texas, Georgia, Alabama and Oklahoma, contact HBW for more information on construction data reports and industry leads.
*Solar statistics listed above were gathered from findings and reports published by SEIA.org, unless noted otherwise.