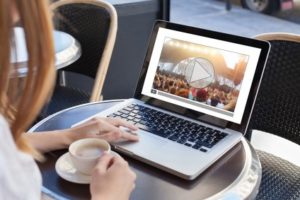 Home builders have many tools available to them for construction projects, but they may not be aware of the many tools available to them for video marketing.  Although most contractors are not interested or have time to produce quality videos for marketing, some smaller businesses are forced to learn as they go as demand for dynamic video content increases.  According to YouTube, the site has over a billion users, which represents nearly 1/3 of all Internet activity.  Additionally, hundreds of millions of hours of YouTube videos are watched each day, generating billions of views.
Such attention-grabbing statistics make it impossible to deny the power and popularity of video.  While it is important to integrate video into your marketing efforts, often there simply isn't room in the budget for a dedicated marketing manager; luckily, there are tools to help the budget-conscious spice up their videos and make them more engaging, even on-the-go.
So before you pick up your phone to create and post a typical and predictable video of a job site or event, check out some easy-to-use apps that may be useful in kicking your video up one notch closer to professional:
While video is just one part of the marketing pie, it is one of the easiest ways to gain your audience's attention quickly and effectively.  Take advantage of the many tools available to help you build videos and stories so that you can focus on building your client portfolio and their homes.
For more information on construction business and marketing tips, stay connected with the HBW Blog.  To get ahead of construction activity and gain access to the latest permitting data in Florida, Texas, Georgia, Alabama and Oklahoma, contact HBW for more information on construction data reports and industry leads.
 * HBW does not endorse or guarantee the above listed services.  Programs/Applications were chosen based on ease of use and access, as well as applicability to construction professionals.