The tight construction labor pool is only getting smaller, and the need for training the next generation of construction professionals is becoming more evident.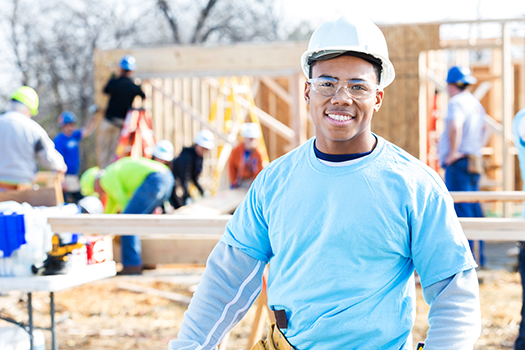 Time and time again, we visit the issues that construction business owners are facing on a daily basis, and one of the greatest challenges to a construction business today is the shrinking labor force.  In fact, a survey conducted by the Associated General Contractors of America (AGC) indicated that 80% of construction companies are having difficulty hiring hourly craft positions.  Despite the fact that average earnings for construction workers have been on the rise and are at a 9-year high, construction companies seem unable to increase their workforce.
So, what's the answer to this ongoing issue?  Truth be told, every business goes about handling their staffing issues differently, but from a big picture perspective, much of the answer is with training the next wave of construction professionals.  As quoted in the AGC report, Ken Simonson, AGC's chief economist stated, 'Labor shortages in the construction industry remain significant and widespread. The best way to encourage continued economic growth, make it easier to rebuild aging infrastructure and place more young adults into high-paying careers is to address construction workforce shortages.'
One way to do this is to offer training to younger job seekers, as well as make the industry more attractive to talent.  While this sounds like an easy solution, based on recent data, it poses quite a challenge. A survey conducted by the National Association of Home Builders (NAHB) revealed that 74 percent of adults (ages 18-25) know the career fields that they want to enter, but only 3 percent would choose construction trades.
The survey went deeper into the issue and reported that the two most common reasons for those who chose not to go into the industry were wanting a less physically-demanding job (48%) and the belief that construction work is difficult (32%).  'Survey participants were then asked if there was any compensation level that might entice them to reconsider a career in the trades.  For slightly more than 20 percent, that number is either $75,000 or $100,000, but for the plurality (43%), there is no amount of money that could make them give the trades a second thought.'
In addition to training, it appears that higher wages and an overall change in how the industry is perceived can help entice younger adults to consider careers in construction.  This also requires a change in perspective on who is invited to careers in construction.  According to the U.S. Department of Labor, the median age for an American construction worker is 42.5, and males make up almost 90 percent of workers in the industry.  Such statistics point to a need for more females to have opportunities to join the workforce.  The U.S. Department of Labor reports that women earn 95.7% as much as men in the same job within construction – This margin is better than most industries where the standard reflects women earning 81% less than their male counterparts across the board.
While labor shortages won't be resolved overnight, construction business owners can help with propelling the industry forward by: offering training and career opportunities for millennials and young adults; encouraging women to enter construction and providing related opportunities for employment; connecting with trade organizations and schools to offer career path programs; upgrading your technology and equipping crews with tools and education that can be of value to them in the future.
For more information on construction industry trends and business tips, stay connected with the HBW Blog.  To get ahead of construction activity and gain access to the latest permitting data in Florida, Texas, Georgia, Alabama and Oklahoma, contact HBW for more information on construction data reports and industry leads.