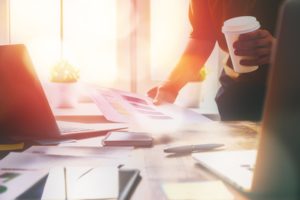 Proposals are your entry way into your next sale, and presentation is just as important as content when it comes to getting noticed.  If you are like most small businesses, you have probably been running the same proposal template for years, and while it may not be outdated, it may be time for a little early "spring cleaning".  Here are a few quick tips for bringing your proposals to the next level:
Easy Navigation – The gift of gab is a gift when discussing options with a customer, but it can be a curse in a proposal. In your proposals, think clean lines and minimalistic in design; you don't want your prospect to waste any time looking for information; for this reason, hit the main points, be concise and organize content in a way that drives the reader to the most important details.  Shorter paragraphs and bullet points are a good place to start.
Good Graphics – Your proposal shouldn't be limited to text. If you don't have a designer in-house or the budget to outsource, you can still create images that make an impact.  From examples of your before/after work, renderings and tables/graphs, an image can often provide a large amount of data in a small and attractive package.  That being stated, just as with text, you don't want to flood the client.  Rather, include images that have a purpose and communicate relevant information – not just to fill empty space on a page.
Engaging Titles – Titles are your handshake and first impression for the page and content to follow. Instead of just listing sections by number or putting obvious titles like "proposal", consider adding a title that is more custom to the project or client.
Line it Up – For every proposal, there should be a proposed time frame for commencing and completing the project. In order to convey the timeframe in an easy-to-read format, consider including a clearly defined timeline that is both appealing to the eye and reflective of realistic and accurate dates.  A timeline enables the client to visualize the project and have well-defined expectations for a schedule.
Solid Proof – In addition to providing the proof of your abilities and expertise, there are various forms of proof of your services and skills that can provide a well-rounded understanding of your business, more specifically social proof. Social proof includes but is not limited to:

Testimonials – This is a given, but testimonials shouldn't be limited to your website. Whether you choose to add a "testimonials" page or sprinkle a few choice quotes throughout your materials, testimonials can be a powerful partner in rounding out your proposal.
Awards and Affiliations – From awards received by local trade associations to memberships for national industry organizations, list your awards and affiliations with the corresponding logos when possible.
High Profile Clients and Suppliers – When and where appropriate, provide a list and/or logo of some of your higher profile clients and projects, as well as those for high-quality and recognized suppliers.
Images – In addition to the high-profile clients, you should also consider adding images from high-profile and/or related projects that have been completed by your company, this is especially important when looking to secure larger commercial projects.
Team Profiles – Put your team and their expertise front and center. After all, people work with people, not just a brand.  Have a summary of your key players' backgrounds and a photo/headshot if possible.  This allows for your company to be relatable and for the prospect to learn more about the people behind the name.
While there isn't a one-size-fits-all approach for proposals, there are definitely specific requirements that must be met and information that must be included.  If you just follow the guidelines and have a cookie-cutter proposal, you will not be making the most of the opportunity to engage and "wow" your potential client.  By tightening your content, adding a few choice images, graphs and testimonials, you can develop a proposal that will more than just get noticed – it will have a greater likelihood of getting signed.
For more information on construction business and marketing tips, stay connected with the HBW Blog.  To get ahead of construction activity and gain access to the latest permitting data in Florida, Texas, Georgia, Alabama and Oklahoma, contact HBW for more information on construction data reports and industry leads.