Pet ownership and dog-friendly home designs are on the rise.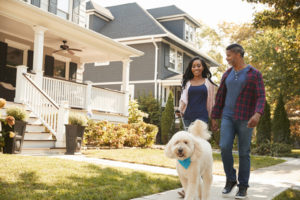 Pet-loving millennials are driving the demand for home designs that fit their lifestyles and that of their four-legged friends.  Architects, designers and builders are all offering practical and luxurious dog-friendly options to meet this demand, and by the looks of the creative and innovative designs, Fido is going to be quite pleased with his new digs.
Why this surge in pet-friendly accommodations?  According to the 2017-18 National Pet Owners Survey conducted by the American Pet Products Association (APPA), 68% of U.S. households (approximately 85 million families) have a pet – this figure is up 56% since the survey was first conducted in 1988.  Additionally, 60 million U.S. households have a dog and ownership has grown 29% over the past decade; that's a sizeable market, and one that is becoming increasingly more significant for home designers and builders.  In addition to the pet pampering boutiques, doggy day spas and gourmet treats, the increase for pet lifestyle options has moved its way into the housing market.
According to a survey conducted by the National Association of Realtors, 81% of those surveyed stated that they would take their pets' needs into account when choosing their next abode, and more than half (52%) stated that they had performed home renovations to accommodate their pet.  For this reason, it should come as no surprise that pet-friendly options have been popping up in new home designs and planned communities across the nation.  Some of the most common and popular options include fences, dog doors and pet-friendly flooring (laminate).  Some home builders show buyers options for modifying floor plans to include pet-washing stations that are integrated into the laundry room.
When searching the internet for some of the latest trends, there is everything from the practical to over-the-top for dog lovers.  Here is a brief list of some features that builders have added to new construction and remodels that grabbed our attention:
Built-in Feeding Station – Anyone who has a pet knows how easy it is to trip on food and water bowls or how they can be pushed across the room in pursuit of the last morsel of kibble. For this reason, built-in feeding stations for the kitchen have been designed to eliminate the mess and potential tripping hazards.  It allows for more floor space and keeps the kitchen design sleek and unobstructed.
Community Services – In planned communities, the pet pampering options don't stop in the home. Gardens, community parks and buildings are starting to see doggy clean-up stations with disposable bags, dog parks, dog salon and grooming stations and/or services.
"Special" Gardens – For homeowners looking to limit the amount of pet waste that makes its way across the yard, there are outdoor potty areas, some that include antimicrobial artificial grass.
Sleeping Quarters – While there may not necessarily be the need or space for a pet to have his own sleeping quarters, there has been a trend developing where spaces that would traditionally be used for cabinets/storage can be modified to accommodate pet beds. Just as with the feeding stations, it allows for the floor space to be clear, all while Fido can still have a cozy spot with his favorite companion.
Dog Houses – While dog houses have been around a long time, some of the latest dog houses easily earn a five-star rating. From some looking like mini versions of the main house to including cooling systems, cozy décor and plush outdoor bedding, today's dog houses are far from being "for the dogs".
With pet ownership on the rise and a high demand for designs and features to meet pets' needs, there is plenty of room to get creative and offer something unique to your clients.  That being stated, the balance between function and aesthetics is key.  Not everyone is looking for the dog house fit for a king, but a few royal pet features may just be the "wow" factor that grabs their attention and love for their four-legged friends.
For more information on construction trends, business and marketing tips, stay connected with the HBW Blog.  To get ahead of construction activity and gain access to the latest permitting data in Florida, Texas, Georgia, Alabama and Oklahoma, contact HBW for more information on construction data reports and industry leads.