A little content can go a long way when spreading the word about your business.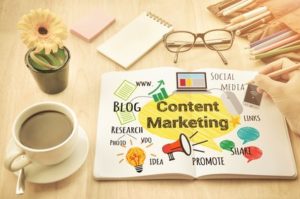 As home builders and contractors running multiple construction projects, marketing your business can easily fall to the bottom of the priorities list.  With the myriad of marketing strategies, methods and options, you can feel lost before you even get started.  While grand marketing campaigns may not be in the budget this year (or next year), there are a few additions to your current marketing efforts you can make to strengthen your visibility and reputation online.
Enter content marketing.  The term "content marketing" gets tossed around quite a bit with the rise of social media, blogs and YouTube.  It really is one of the easiest ways to reach your audience but can also be one of the most difficult aspects of your marketing strategy to develop.  When boiling it down, content marketing is basically the creation and sharing of content online in a way that does not overtly promote a brand but sparks interest and steers the reader/viewer back to a company's products or services; prime examples would be a "how-to" video or an educational blog.  By approaching your target audience from a place of education and resources rather than in-your-face sales, you can encourage more engagement, attract valuable leads and ultimately generate and increase revenue.
So, how does a home builder attempt to embark on content marketing?  While there are certainly no expectations for overnight success, home builders can begin building their content marketing cache through research and sharing current content that may already be on hand.  By collecting pertinent information, videos, tutorials and the like, you will eventually have a rich set of tools and resources that can be used for different purposes at different points in the content marketing cycle.  Here are a few simple steps to follow when creating a framework for your content marketing program:
Research – Conduct research and collect data pertaining to the industry as it relates to your services/products; additionally, collect information regarding your target buyer and the locations where you will be posting your content.
Plan – Chances are you will not be alone on your journey through content marketing. Make sure all active players in your marketing strategy collaborate and have open and regular communication regarding content creation opportunities, timelines for distribution and potential locations for sharing.  Together, your team should develop and have a clear understanding of your plan for content development and when and where it will be shared.
Create – Although this part can seem the most overwhelming, it can really be the best part of the ride if you have conducted thorough research and are properly prepared. Your content should be created and tailored to the audience and platform. Content can and should include a variety of forms and mediums from videos and images of your latest projects to details and stories on your blog and social media profiles.  Change it up by offering a variety of content including: how-to video tutorials; informative infographics; valuable blog topics; FAQs; product videos and explainers; interactive polls and eBooks; eye-catching images of your products and projects; live blogging, presentations, interactive meetings and more.
Share – Choosing where and when you will share your content is just as important as the creation process. In order to maximize the opportunity for reaching and attracting your target audience, you should have a plan for where and when you can best reach them.  For example, providing information or videos on preparing your home or landscape for winter should be shared a couple of months before the season and through outlets that reach homeowners.  Also, don't overlook user-generated content (UGC); sometimes the most persuasive content will be created by your customers and prospects, so be sure to encourage and provide incentives for being brand advocates.
Although content marketing can be time consuming, it can also provide quite a return on your investment when effectively executed.  Sharing content simply to put something "out there" can often do more harm than good.  By staying focused and taking appropriate steps to define a clear objective and plan for creating and sharing content, you can open the door to new possibilities for marketing and customer engagement.
For more information on construction business and marketing tips, stay connected with the HBW Blog.  To get ahead of construction activity and gain access to the latest permitting data in Florida, Texas, Georgia, Alabama and Oklahoma, contact HBW for more information on construction data reports and industry leads.