Although developing a marketing strategy for your business can take time and resources, there are a few things you can do now to improve your current marketing efforts and expand your reach.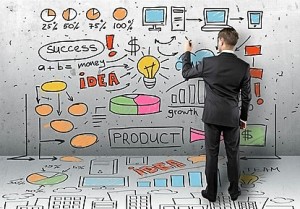 Are you a home builder with caviar marketing dreams on a fast food budget?  If so, you probably welcome low-cost and effective methods for reaching your target audience.  Thanks to social media, modern technology and the many marketing opportunities available to businesses, there are some budget-friendly means for building awareness of your business and sharing your message and brand.
Truth be told, there are no quick fixes or easy one-step approaches to a properly developed marketing strategy.  A comprehensive marketing strategy will have multiple layers and utilize a range of channels and materials to target, reach and engage your audience.  Full strategies aside, there is always room for improvement, and sometimes our marketing efforts could use a little check-up or revision to ensure that we are maximizing our efforts.  For this reason, here's a quick list of easy and affordable marketing tips that can get you started or give a boost to what you may already have in place:
Get a List – This step is simple but takes time to get it right. Having an ongoing list of leads and prospects is essential to any marketing plan.  Who is your target audience and how do you plan on reaching them?  Defining your audience is one step, and getting verified contacts is another.  For HBW subscribers, this step is a breeze; from new homeowners just breaking ground to residential and commercial building owners in need of renovations, HBW provides a constantly updated source for leads.
Go Local – It is great to think about your business's reach in broad terms, but your local community is an important place to begin networking. From Chamber of Commerce meetings and local publications to sponsoring a charity or small business networking event, it is important to get out there, in-person, and beyond the digital realm of social media and websites.  To get started, check events listed with your local chambers and related industry associations in your area.
Be a Resource – Whether you comment on blog posts or articles for industry magazines or develop your own trainings or blogs, it is important that you share your expertise and home building knowledge. Leaving valuable comments on blogs or posting an article on a high-traffic construction website can be an effective way to get noticed by popular industry outlets and their readers.
Be an Educator – Not long ago, hosting an online tutorial or training seemed to be just for the most tech-savvy of businesses. This is not the case anymore.  Hosting full-scale webinars can be expensive, but there are also applications that are less costly and may serve your purposes.  If you want to host an interactive "how-to" on construction, landscaping or whatever your specialty may be, you will need to move a step up from videos on YouTube.  Some easy and user-friendly solutions may be in something as simple as Livestream on Facebook.  If you want to create a webinar, there are a myriad of options from GotoWebinar, Webinars OnAir and many more.
Get Listed – Your business may be receiving attention online through your SEO (Search Engine Optimization) efforts or Google Ads, but don't overlook the many free opportunities for being listed and recognized in searches. If you would like your business to be visible in a local search, then consider establishing a Google My Business account which will also bring up your business on Maps and Google+.  Additionally, if you are not yet listed on Yelp, it may be worth the small effort; it's free to add your business and can increase the likelihood of coming up in search engines.
Just as in home building, marketing success does not happen overnight and there is no one-size-fits-all solution.  Building awareness of your brand is multifaceted and reliant on a variety of factors.  By keeping your content relevant, your contacts and leads fresh and your name and expertise visible, you will build and maintain a solid structure for reaching your target market.
For more information on construction business and marketing tips, stay connected with the HBW Blog.  To get ahead of construction activity and gain access to the latest permitting data in Florida, Texas, Georgia, Alabama and Oklahoma, contact HBW for more information on construction data reports and industry leads.