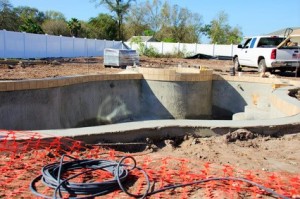 For those of you in Texas last month, you probably felt the record high heat throughout the state.  According to the latest reports from Weather.com, Midland, Texas had the hottest month on record (average temperature of 88.2), and Houston broke the record books with last month being the warmest July on record.  In the desert region, El Paso also experienced its warmest July recorded.  So why all of the discussion about the hot summer heat?  Well, we figured a good way to cool off would be to take a look at the latest on swimming pool construction.  Although July was not a record setting period for new swimming pool construction in the Lone Star State, there are hundreds of new permits and close to $27M in total construction on file for the month with HBW.
When reviewing the four major metropolitan areas of Dallas, Houston, San Antonio and Austin, Dallas took the lead with nearly 300 swimming pool starts last month and close to $13.4M in construction value.  Although Sandler Pools was on top in Dallas for total permits, construction was widespread across a variety of pool builders as there were approximately 125 active builders in the area last month.  The bulk of new pool construction in Dallas took place in Dallas and Collin counties. Houston came in at second highest with 151 new swimming pool permits and nearly $8.2M in total construction value.  Just about 90 pool builders were active in the Houston area last month, and most new permits originated from the counties of Harris and Montgomery.  San Antonio and Austin were less active for new pools in July with both areas having just over 50 new pool starts.  In San Antonio, Bexar County held more than half of the new pool construction, and in Austin 75% of new pools were started in Travis County.
Taking a closer look at counties across the state, the Dallas counties of Dallas and Collin took the lead with approximately 90 pool starts and more than $4M in new construction in each county. Harris County of Houston was third highest with 68 permits and more than $4.5M in construction value.  Tarrant County (Dallas) and Montgomery County (Houston) ranked fourth and fifth highest for total new swimming pool permits last month.
Although the average value of pools across the state stayed within the range of $44k-$54k, there are a few pool builders who led higher-value construction.  As may be expected, the companies with the larger value projects had no more than a couple of starts on file for the month; there were several builders with construction valued over $125k and reaching as high as $426k.  Most notably, Outdoor Elements of Houston held an average value of construction of $426k for the month, and in Dallas several builders had average pool construction values in excess of $150k.  Here is the breakdown of pool builders with average swimming pool construction values exceeding $125k:
As previously mentioned, all areas fell within a $10k range of each other for average value.  Houston was on top with the highest average value of $54,287, and Dallas was at the other end of the spectrum with an average value of $44,786.
Information utilized for the graphs and above listed figures for Texas swimming pool construction was directly derived from HBW construction data reports. To gain access to the HBW database and receive custom and detailed reports on the latest residential and commercial building activity in Florida, Georgia, Texas, Alabama, and Oklahoma, please contact HBW for details.