With HBW you have the solid leads, but to make the best use of those contacts, you must be prepared with the proper information and materials to gain their interest.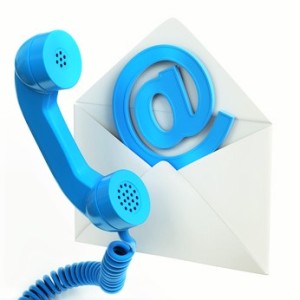 Leads are like gold to any business, but to get the most out of your first contact, you should be prepared for any potential client and all potential questions.  Although you can't look into a crystal ball to know your lead's needs and budget, you can be sure to have all resources and materials ready for distribution to help guide them in the process.  Although no one list of must-haves can prepare you for every possible scenario, there are a few primary materials and areas to keep in mind before reaching out to a lead to offer your services.
Marketing and Other Materials – We all know the basics from brochures to business cards, and if you checked out my previous post on assessing if you need a marketing materials makeover, you should have your primary marketing pieces up-to-date and presentation-ready.  Aside from being current, you should also have all of your materials available in digital copy, whether as a downloadable pdf. on your website or as an email attachment.  Additionally, the core essentials should be solid and readily available; such essentials include company background and fact sheet, executive team bios, product/service fact sheets and client list.
Get Digital – So your business may be accessible online, but what about you, the home builder?  Do you have an online profile?  If not, you should think about developing one.  An online profile is a great way to show your expertise beyond the company and as an individual. Have clients provide testimonials and build your personal credibility.  A solid company name and reputation is important, but people like to work with people, and a strong digital profile as an individual is one step in gaining their trust and building the relationship
Calendar – Don't make contact without an idea of your project schedule.  If your lead is interested in your services, often they will want to know how soon you will be able to be onsite, get started and/or a time frame for completion.  Throwing out an arbitrary date to appease them is an easy way to break trust and have a frustrated client down the road.  Be clear about your schedule and ready to offer a realistic time frame for meetings and project scheduling.
Incentives – Do you have any discounts or package deals that you can offer that will entice your contact to get started sooner rather than later?  Perhaps there is a discount available on materials with a supplier through the month, or maybe an unexpected opening next week rather than next month. By providing incentives to begin the process as soon as possible, you may be able to keep your contact engaged.  Be careful, you want to avoid high-pressure sales as that can often result in a lead slipping away early in the process.
Ask Questions –  You heard me right.  By asking a few simple questions you can gain a better sense of how serious the prospect is about your services, his/her needs and how much time you should spend with them.  Examples of basic questions to ask are as follows:
What's the scope of the project?
When are you looking to start and complete the project?
How soon will you be making a decision?
Are you getting other bids/proposals?
Although asking questions is important, you won't get very far unless you are also a good listener.  Avoid being reactive and overselling yourself – Less is more when going into specifics.  Try not to go into too much detail about costs or make promises that you won't be able to keep.  When in doubt, offer to answer those questions in a follow-up email that can provide the accurate details they need and will buy you time to customize the quote and proposal based on their input.
No matter how prepared you are before making contact, you will not make headway without proper follow-up.  By having materials ready, listening to their needs and following up in a timely manner, you can develop a strong relationship that will lay the foundation for future projects.
For more information on construction business and marketing tips, stay connected with the HBW Blog.  To get ahead of construction activity and gain access to the latest permitting data in Florida, Texas, Georgia, Alabama and Oklahoma, contact HBW for more information on construction data reports and industry leads.