Based on HBW's latest permit data for residential construction in Texas, here are the highlights in home building last month.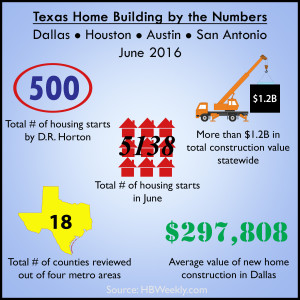 In July, there were 5,138 housing starts with a total construction value in excess of $1.2B in the combined metro areas of Dallas, Houston, Austin and San Antonio.  Dallas led for the highest total construction value with more than $539M in new permits, while Houston led for total starts (2,104 permits).  Out of the hundreds of active home builders, D.R. Horton had the most housing starts on file statewide (500 permits) and the highest number of new residential construction permits of any builder in the metro areas of Houston and Dallas.
When reviewing the average value of new homes started in July, Dallas continued its lead and held steady with an average value of $297,808.  Two areas that had month-over-month increases in average value were Austin and San Antonio.  Austin was up by approximately 10% since June with an average value of $256,686, and San Antonio was up by 7% with an average value of $241,148.  Houston held the lowest average value of housing starts in July at $183,489.
Taking a look at the top counties throughout the four major metropolitan areas, counties in Dallas and Houston dominated the chart.  As noted in our recent Q2 Report, Harris County of Houston has been a top location for new residential construction through the first half of the year, and it continued to hold the top spot through July with 1,120 housing starts and close to $196M in construction value.  Tarrant County in Dallas was a distant second with 522 new residential construction permits and approximately $126.2M in total value.  Also in the Dallas area, Collin County was third highest for housing starts with 502 new permits and nearly $155M in construction value on file with HBW.
Information utilized for the graphs and above listed figures for Texas residential construction was directly derived from HBW construction data reports. To gain access to the HBW database and receive custom and detailed reports on the latest residential and commercial building activity in Florida, Georgia, Texas, Alabama, and Oklahoma, please contact HBW for details.