When it comes to contacting leads, proper and effective follow-up is the key to success.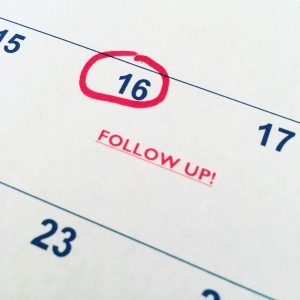 HBW subscribers have an ongoing and growing list of leads at their fingertips.  With so many leads, it is easy to lose track of contacts and get behind on following up.  A contact management system can certainly assist in organizing contacts and a communication distribution schedule, but how and when contacts are reached will define results.  Don't think that one call or a single email will be effective; proper follow-up is a vital part of connecting with prospects, and it can be challenging to ascertain the best method for reaching them.
Whether you choose email, mail or phone, here are 7 methods for follow-up that go beyond the simple "Did you get my last email?":
Identify their Needs – To truly connect to your prospects, you must identify their needs. Simply providing a pitch that touts your products and services does not get the same response as a tailored message that offers solutions to current weaknesses or concerns of the homeowner.  For example, a roofer may address missing shingles or a landscaper may note the issues with irrigation systems.
Provide Action – A brief piece of advice or action they can take for home improvement is another easy way to follow up. Whether offering tips for seasonal home maintenance or advice for increasing curb appeal, free and useful advice will garner more attention than a simple "check-in".
Go Further with Guides – If you receive interest and response from the actionable advice, go a step further by offering how-to guides and a personal consultation. Depending on the level of interest and your contact's preferred methods for communication, they may appreciate an in-person meeting to gain a better understanding and more detail on how you can improve their home.
Share Outside Resources – As many of us know from social media, sharing relevant information from a reliable third party can be a great way to connect with our target audience. When following up with a prospect, consider sharing articles that homeowners will find useful.  For example, a flooring specialist may provide tips for maintaining wood floors or a painter may share an article that informs homeowners of signs that it is time to repaint their exterior.
Share Your Blog – Offering links to your social media profiles is a good idea in any online communication, but if you want your expertise to be on display, consider directing them to your latest blog post. From new project highlights to relevant advice, your blog provides you with an opportunity to address a variety of interests and topics.
Get Local – Perhaps there is a home or garden expo coming to your area or a local event that your business is sponsoring – Whatever the event, make sure to invite prospects and offer a chance to meet you and your team. Let your contacts know details of the event and where they can find your booth or table.  Offering something unique such as a chance at a raffle or a giveaway can be an incentive for getting them to attend.
Host an Educational Session – You will often see educational series offered in other industries. Businesses are offered marketing and social media workshops.  Medical professionals offer health and wellness information sessions to the community.  Home builders and remodelers can offer similar sessions, online or in-person.  By creating an event that invites homeowners to explore the latest color trends, home technology or sustainable products, you are opening the doors to your target audience and demonstrating how you can work with them to improve their homes and living spaces.
Leads are the key to a flourishing business, and to gain their interest and keep them engaged, you must have a solid plan for proper follow-up and communication.  By tailoring your message and reaching prospects in a meaningful way, you won't just be making contact; you will be making contact that counts.
For more information on construction business and marketing tips, stay connected with the HBW Blog.  To get ahead of construction activity and gain access to the latest permitting data in Florida, Texas, Georgia, Alabama and Oklahoma, contact HBW for more information on construction data reports and industry leads.