With close to 6,300 housing starts, Texas residential construction experienced a 25% month-over-month increase in October.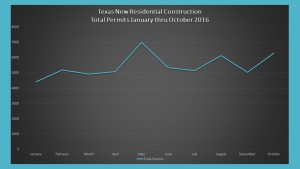 Looking at the line graph above, new residential construction in Texas is clearly climbing, with October being one of the best months this year for housing starts.  Aside from the major spike in May, October was a standout for new residential construction permits in Texas, adding nearly 6,300 new permits to the HBW database.  The four major metropolitan areas of Houston, Dallas, Austin and San Antonio had increased residential construction activity, and Houston has remained the leader for total housing starts in a one-month period.  The Houston area experienced a month-over-month increase of 30% in new residential construction permits last month, with 2,551 new permits and nearly $495M in construction value.  Dallas also held strong having a 28% month-over-month increase resulting in 2,192 housing starts and a high total construction value of more than $661M.  Although Austin's new residential construction activity didn't jump quite as high, the area had an 8% increase in housing starts since September with 1,048 new residential permits and more than $244M in construction value.  While San Antonio continued to fall on the shorter end for total permits, the area had one of the higher month-over-month increases in new residential construction.  San Antonio's housing starts jumped approximately 30% in comparison to September as there were nearly 500 housing starts with a total value of more than $113M in October.
The average value of new residential construction continues to be led by Dallas.  In October, the average value of housing starts in Dallas was $301,606.  Austin was next in line and up one spot since September to hold the second highest average value of $233,215.  San Antonio was close behind and held the third highest average value of construction at $226,545.  Although Houston remained at the lower end for average value, it was ahead of September with an average value of $193,738.
Across the four major metro areas of Texas, the concentration of new residential construction spanned a variety of counties, with Harris County in Houston maintaining the highest number of housing starts of any county reviewed.  Harris County was up 26% since September and remained in the top spot for total new permits with 1,376 housing starts and more than $266M in residential construction last month.  Tarrant County (Dallas) made an impressive leap from #5 in September to #2 in October as it nearly doubled its residential construction activity.  In Tarrant County, there were nearly 600 housing starts last month totaling close to $158M in value.  Also in Dallas, Collin County dropped a spot since September but held tight at #3 with 592 housing starts and nearly $182M in total value.  An Austin-area county that made the top five in October was Travis County, as it had more than 560 housing starts on file.  Fort Bend in Houston rounded out the top five with 552 housing starts for the month.
Information utilized for the graphs and above listed figures for Texas residential construction was directly derived from HBW construction data reports. To gain access to the HBW database and receive custom and detailed reports on the latest residential and commercial building activity in Florida, Georgia, Texas, Alabama, and Oklahoma, please contact HBW for details.