Increasing your rate on referrals requires a little extra effort to make it easy to send new business your way.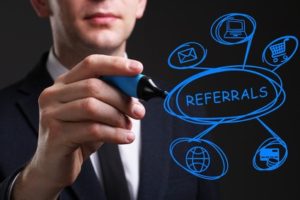 The dreaded ask… Some of us are better than others when it comes to asking for referrals.  Most of us can find it to be uncomfortable, especially if not done at the right place or time.  Passive requests through general communications and surveys are a little easier on the front-end, but don't always produce the results we are looking for in the end.  So, what does it take to increase your referrals?  Here are seven key areas to consider when looking for referral success:
Ask Early – While it makes sense to wait for a job to be completed before asking for a referral, don't be shy on this one. Throughout the construction project, you will have multiple interactions with your clients, and when it comes to referrals, timing is everything.  Look for those moments in conversations when you are receiving positive feedback to offer a chance to share your good work with others.
Be Personal – As previously mentioned, general communications and surveys can get the process started but leaves you very little on which to follow up. Referrals rely heavily on developing a solid relationship with your client, and you may find more success with a personal phone call or email rather than an impersonal eBlast.
Give a Little – When it comes to referrals, you often get what you give. By referring other trusted professionals in the industry, you will begin to create a referral network of your own.  Work with businesses that offer complementary services and develop an agreement for referring each other's products and services.
Enhance Your Signature – In addition to your website and general email communications, add a "refer a friend" or "share my info" link to your email signature. While pamphlets and eBlasts may find the trash bin early, your personal email messages with project details will most likely stick around for a while.
Join Networks – Beyond your clients, you will want to gain referrals through professional networks. While Chamber of Commerce meetings and trade association events can be time-consuming, meeting and working with others in the industry is crucial to building a referral network.
Give Thanks – If you are not already collecting data about how your new clients learned of your services, you should start doing so now. The best way to keep the referrals coming is to recognize the sources and give them thanks.  When a client or colleague throws new business your way, provide them with a personal "thank you", and perhaps an incentive to keep the good word going.  Even if you are not currently offering incentives for referrals in the form of discounts for clients or referral fees for businesses, offering such rewards when unexpected will be appreciated.
Get Online – From building your network on LinkedIn to adding a "refer a friend" button on your website, referrals should be just a "click" away. Make it easy by including options to refer your business on your website, in your LinkedIn profile and posts, in your newsletter and promotions, and anywhere your business can be found online.
Making a direct ask for a referral isn't always easy, but you can certainly make it easier to be referred.  Through partnering with industry professionals, offering incentives and building strong relationships with your clients, you will expand your network and increase opportunities for referrals.
For more information on construction business and marketing tips, stay connected with the HBW Blog.  To get ahead of construction activity and gain access to the latest permitting data in Florida, Texas, Georgia, Alabama and Oklahoma, contact HBW for more information on construction data reports and industry leads.