With new apps being launched every day, we reviewed free apps for contractors that can be used to make life on the job a little easier.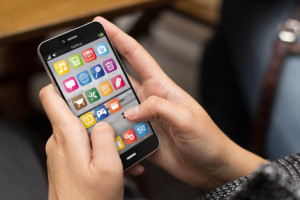 Just search "construction apps" in the Apple or Google Play stores, and you will get a seemingly endless list of apps from project management to video games.  With the various prices and wide-ranging reviews, it can become quite tedious (and time consuming) to figure out which app will be best for you.  There really is something for every aspect of construction management, including timesheets, measuring tools, invoicing, estimating… It's enough to make you stop the search and continue with business as usual.  Don't get discouraged, there really are a number of useful and free apps that can help you both on and off the job site.  Here's a look at 7 apps we have reviewed that you may find useful in managing your day-to-day operations.
Google Earth – If you don't already have Google Earth, download it. It is both useful and somewhat entertaining.  You can get a bird's-eye view (satellite view in this case) of properties and surrounding areas.  It is a great tool for prepping to visit a new job site or gain information about the building and area of your HBW leads. Although Google Earth can't view inside properties (at least not yet), it is a perfect tool for landscapers, roofers, concrete, plumbing, sewer, and pavement contractors when used to estimate measurements and put preliminary figures together for estimates.  Just keep in mind that the view is not live, and imagery can be anywhere from 1-3 years old.  You may just find some new construction or exterior changes waiting for you when you actually visit the job site.
Fieldwire – Looking to manage tasks and plans for your construction site? Fieldwire is a planning app that enables foremen, project managers and superintendents to collaborate while they are on and off the site. Users can look at the latest set of plans, share critical information (photos, punch lists), and manage tasks as a team. Users can update items and specific tasks, assign tasks to teammates, and add notes/comments and photos. Comments are shared in a chat-like format, and all pending and completed tasks are marked and color-coded appropriately, making it easy to track progress, get to priorities and action items. According to their website, the app is currently free for up to 15 users.
Dropbox – Although this app is not specific to construction, it is an easy on-the-go app that should really be a mainstay in your tech tool box. Not tech savvy? No problem.  It really doesn't get easier than this one.  You can store, transfer and share folders, files and photos by copying or uploading them to the app.  You can access files from your computer, tablet, phone and really anywhere online. Whether it's a PowerPoint presentation or a client's back-up file, it can be stored privately or shared publicly with a link.  It is also a great way to avoid multiple attachments and downloading issues that are so common with sending files via email.  Current plans offer approximately 2GB of storage space free of charge.
Square (a.k.a SquareUp) – Another app that is not industry-specific but useful in construction is Square. The Square app is a great way for small business owners to collect payments and outstanding balances from any mobile device.  Unlike some other providers, you will not need to transfer the funds to your account through an additional step; Square is linked directly to your business bank account, and money is processed and automatically deposited.  The app also offers invoicing features, as well as auto-generated receipts that your client will receive via email.  The system also saves email addresses related to each credit card, making it easy for receipts to be automatically sent in future transactions.  One word of caution – Make sure you use the "swipe" feature (2.75% per swipe), as rates for manually entered credit cards are higher (3.5% + $.15).
PlanGrid – Another app that allows users to collaborate on construction projects is PlanGrid. This app enables contractors and architects to collaborate on all their project plans, specs and photos. Users can upload drawings, and they will sync to all devices in real time. Once the drawings are posted, they can be shared with other team members. The app provides an alert when new drawings are added. Users can add notes, photos, take measurements and use field take off and estimating tools. There is also a function for creating punch lists and assigning them to individuals, as well as creating and distributing issue reports.
MagicPlan – Working on the interior of a building? MagicPlan enables users to measure, draw, and publish interactive floor plans, just by taking pictures. The app offers ways to create floor plans quickly and on-the-go without measuring, drawing or moving furniture, and you can easily export from the app. It can be a useful tool for realtors, architects, interior designers, remodelers and inspectors if they don't already have an app for creating floor plans on site.  It's most accurate on smaller spaces such as those in residential projects.  Keep in mind, the app will initially go through a calibration process, so your device will need a camera and internal gyroscope.  As for price… You can create and share plans with other MagicPlan account users on an unlimited basis, but exporting plans to others requires additional fees; publications are limited, include watermarks and are for private use. It is worth trying it for free to decide if you want to invest in this type of tool later.
AutoCAD 360 – Already using AutoCAD? This app is essentially AutoCAD to go, eliminating the need to bring printed (and easily misplaced) drawings to site visits.  As a mobile drawing and drafting tool, it enables users to view, redline, edit, comment and share AutoCAD drawings across a variety of devices including desktops, tablets and phones. No CAD experience?  No problem. This app is designed specifically for newbies or those with little CAD experience.
As previously mentioned, the list could go on and on, as new apps and features are launched at a record pace.  The list above is great way to get started and see which apps work best for you, your business and team.  Remember, apps are supposed to make life easier, not more complicated.  For this reason, it is worth trying a few and choosing one that you think will best support your operations.
For more information on construction business tips and industry updates, stay connected with the HBW Blog.  To get ahead of construction activity and gain access to the latest permitting data in Florida, Texas, Georgia, Alabama and Oklahoma, contact HBW for more information on construction data reports and industry leads.