From the latest industry predictions and reports, the construction industry outlook is positive in the new year.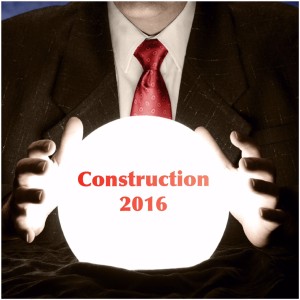 Although we can't just look into a crystal ball and know what the construction market will look like in the coming year, we do have great resources for analyzing and predicting market patterns.  For example, companies such as Dodge Data & Analytics in New York recently released its 2016 Dodge Construction Outlook, and AIA released its Consensus Construction Forecast.  Good News: Based on a variety of sources and predictions, overall construction starts are expected to rise in 2016!  Along with the already estimated 13% increase for 2015 by Dodge, it looks like there is a Happy New Year ahead for construction.
There are a number of industry organizations that have predicted growth in the coming year.  For this reason, we chose to sample a few economists and reports to focus on the areas that are of most importance to HBW subscribers:
According to Robert Murray, Chief Economist for Dodge Data & Analytics, and as stated in their October press release, construction starts in 2016 are predicted to increase 6% to $712 billion, with the highest gains expected in residential construction (up 16%). Nonresidential building is expected to rise by 9%, while nonbuilding construction is expected to see a decline of 14%.
You may be asking, "What factors are considered and marked for this predicted increase in construction starts in 2016?"  The answer is layered but can be boiled down to the following:
Moderate Job Growth
Easier lending standards
Commercial real estate market fundamentals on the upswing
Increased funding from state and local construction bond measures
Another source is Chief Economist Anirban Basu of Associated Builders and Contractors, Inc. (ABC); he has also predicted growth for the construction industry.  Anirban stated in a November ABC press release that nonresidential construction is predicted to experience 7% growth in 2016.  He attributed the upswing to lower material prices and greater certainty in federal budgeting and policy.  At the same time, he recognized the shortage in skilled labor and predicted that it will remain a challenge in the coming year.
When looking at the American Institute of Architects' (AIA) semi-annual Consensus Construction Forecast, a survey of the nation's leading construction forecasters, nonresidential construction as a whole is expected to improve/increase by approximately 8.2% in 2016.  As for residential construction, AIA Chief Economist, Kermit Baker, was quoted in ABC's press release stating, "Led by tremendous demand for energy-efficient spaces, spending on home improvements is on track to reach an all-time high by year's end."
With the positive outlook for the coming year, it appears that construction professionals can prepare for increased activity, as well as continued challenges due to the ongoing labor shortage.  In order to stay ahead of the reports and on top of the latest construction and permitting activity, contact HBW for a complimentary construction data report.