Small Business Week is happening April 30-May 6, 2017, and it's not too late to get in on the action.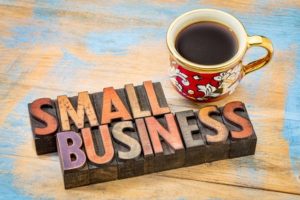 Small Business Week is here!  We are in it, and events and efforts are in full force.  For those of you who are new to National Small Business Week, it is an annual event that has been in effect since 1963.  The purpose is simple: To recognize the valuable contributions of entrepreneurs and small business owners throughout the U.S.  As a small business owner, it is a great time to shout from the rooftops and maximize this nationally recognized week by participating in events, recognizing your team and accomplishments and becoming active on social media in the small business arena.
Here are 5 easy ways to get on board this week, even at the mid-week point, to be part of the small business celebration:
Join the Conversation – From sharing the hashtag #SmallBusinessWeek to watching and sharing live events from the Small Business Administration (SBA), it is time to be part of the buzz.  Make connections with your networks in LinkedIn and the like.  Be active and provide comments in related posts and discussions.  Start a conversation of your own with some small business advice or lessons learned along your own path to success.
Share Your Story – Kick your "Throwback Thursday" up a notch this week. Find some classic photos or relics that show where you started; share your passion for your work and the industry.  If you are a landscaper, share photos from your first garden as a child.  If you are home builder, show one of your first projects, clients or jobs.  A little nostalgia is not only fun for your team, but it is a great way to connect to your audience too.  And if you are a user of Constant Contact, don't forget to use the hashtag #MySmallBizWhy to be part of other small businesses doing the same.
Watch and Share – Starting today, Wednesday (11:30 am – 1:30 pm ET) the National Small Business Week Road Tour kicks off in Indianapolis, IN. The great news is that you don't have to be there to be part of the event.  You can watch from the comfort of your office or home through their website.  In addition to watching inspiring stories from entrepreneurs and small business owners, you can get in on the conversation using the hashtag #SmallBusinessWeek.  Other live events that will be happening this week and available online include: Thursday 05/04/17 (11:30 am – 1:30 pm CT) in Arlington Texas and Friday 05/05/17 (9:00 am – 10:30 am PT) in Fresno, CA.
Take a Webinar – A variety of webinars are being offered today and tomorrow. With topics ranging from how to grow your business online to improving email marketing, the webinar series offers short informational sessions that may provide a much-needed and nice refresher for you and your team.  You can view and register for webinars here: https://www.sba.gov/nsbw/webinars
Give Thanks – There is never a bad time to thank your customers, and without them, small businesses wouldn't be, well, in business. For this reason, consider sending a personal "thank you" to your longstanding customers.  Don't want to get personal?  Then a nice customer recognition email or social media post will do the trick.  Linking your customers to your success allows you to connect and show your appreciation for their continued business and support.
Although National Small Business Week ends in a few short days, your efforts to connect to your customers should continue long beyond the hashtags and one-time events.  Regular communication with your customers through a personal "thank you", recognition of support and sharing of your business is all part of relationship building.  While you will need to move quickly to get on board with this year's business week, it is important to remember that strong relationships with your customers take time and that you should make a constant and conscious effort to connect throughout the year.
For more information on construction business and marketing tips, stay connected with the HBW Blog.  To get ahead of construction activity and gain access to the latest permitting data in Florida, Texas, Georgia, Alabama and Oklahoma, contact HBW for more information on construction data reports and industry leads.