How do you make your new year's resolutions count?  Here are easy ways to increase your chances for achieving your latest goals.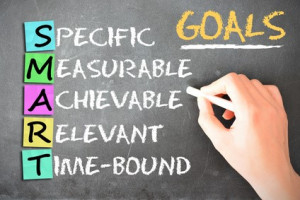 Resolutions… They are not just for the new year.  No, resolutions are decisions and intentions that you set to accomplish, usually within a given period of time.  Although the new year provides an apropos moment to set such intent, resolutions can and should be happening throughout the year.  Think about it – From new job sites and projects to monthly meetings and new office systems, new goals and directions come about year-round.  In order for these goals and objectives to be successful, there must be realistic expectations, consistent effort and thorough follow through.  Here are five ways to help turn a resolution into a realization:
Document It – If you've got a resolution, don't just talk about it – write it down. Have a place where it is recorded, visible and accessible.  By committing the goal to paper (or file), it is not only reinforced in your own thinking, but it gains a more concrete reality.  Additionally, it gives you time to review it and make modifications if necessary.
Review It – One surefire way to miss a goal is to make it unattainable. To set a goal for success, take time to review it to ensure that it is realistic and based on you or your company's current timelines and resources, not those that you hope to have in the future.  If there are other team members involved in reaching those goals, include them in the setting and review process for input and feedback.
Break It Down – Now that you have a solid and realistic goal or resolution, break it down by the steps that you will need to take to achieve it. Include a timeline, list of resources, action items, players, stipulations and budgets if applicable.
Set Checkpoints – Incorporated in the timeline should be "checkpoints". These checkpoints should be set to ensure that you are on schedule and will be able to reach your set goal within the given time frame (one year for resolutions).  An easy general guideline would be to set checkpoints at 25%, 50% and 75% completion; they should include the expected status of action items, available and utilized resources, as well as the players to report on the specific stages of progress.
Follow Through – Once you have achieved your goal, give yourself a pat on the back, but it doesn't end there. Follow through and maintenance are part of the next stage and usually ongoing for many goals.  If it is a project-based goal, great, you've reached the finish line, but if it is a business goal, the journey has just begun.  Just as when you set the goal, you will want to assign key players to maintain the new system or project that has been added.  Just as in checkpoints, you will need to have regular "check-ins" throughout the year to make sure your new endeavor can grow with your business in the years to come.  This can be as easy as adding a new line item to your meeting agenda or requesting quarterly reports from a team member(s).
Resolutions get quite a bit of hype this time of year, but they are essentially goals.  As your business grows, so will your goals.  The success of a business relies on the success of meeting objectives.  By taking a methodical and structured approach to setting and attaining realistic resolutions, you will drive your business to a successful new year, every year.
For more information on construction business and marketing tips, stay connected with the HBW Blog.  To get ahead of construction activity and gain access to the latest permitting data in Florida, Texas, Georgia, Alabama and Oklahoma, contact HBW for more information on construction data reports and industry leads.