Homes in the luxurious LaMorada community such as the Martinique model pictured below range from $300k to $1 million. Photo courtesy of WCI Communities.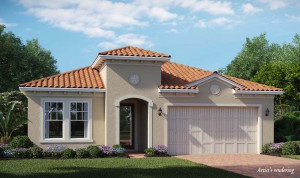 HBW subscribers in the Naples area have already been investigating the opportunities at this stunning new WCI property. LaMorada features 343 home sites arranged in four unique neighborhoods, with an array of customizable floorplans for homebuyers to choose from.
Multi-family Carriage Homes with second floor elevator access and maintenance-free living are available in two- and three-bedroom layouts ranging from 1,710 to 2,376 square feet.
The Grand Villas neighborhood is home to single-family two- and three-bedroom homes that have two- or three-and-a-half bathrooms, plan-specific dens, and living area of 2,201-3,010 square feet.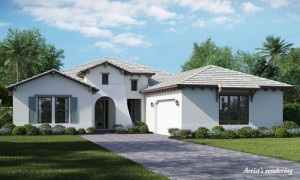 The Donatello model. Photo courtesy of WCI Communities.
The Classic Homes neighborhood showcases homes with open access between the den and the kitchen, with an additional breakfast nook and a lanai. These three-bedroom, two- to four-bath homes have conventional dens and foyers as well as guest rooms positioned on the opposite side of the house for maximum privacy. Classic Homes range from 2,556 to over 3,000 square feet of living space.
The most spacious homes in LaMorada, appropriately called the Grand Estates, offer oversized master suites, three or four guest rooms with private baths, and a den. Each Grand Estate has separate casual and formal dining areas and generous lanais, and a three-car garage is standard for each homes. Grand Estates have a living area ranging from 2,904-4,000 square feet.
The show-stopping kitchens of LaMorada luxury residences come complete with granite countertops, fully articulated cooking islands, Whirlpool appliances, and designer cabinets. The spa-like bathrooms showcase Moen faucets, dual sinks, and solid-surface vanities. The sliding doors and windows of each home in LaMorada are made from low-E insulated glass.
LaMorada's community spirit will be well-maintained in the clubhouse's great room and adjacent verandah. The 13,700-square foot clubhouse will house a fitness center, theater, outdoor bar, aerobics studio, and resort-style pool and spa as well as tennis courts and a culinary arts center.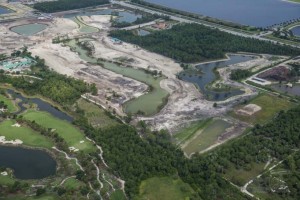 LaMorada has entered the homebuilding phase of development. Photo of initial Phase 2 construction provided by WCI Communities.
To learn more about the building permit and construction activity at LaMorada, contact HBW. HBW serves building trades professionals in Florida, Alabama, Georgia, Texas, and Oklahoma. Building professionals who are proactive and informed can count on HBW's newsletter to deliver the latest in building trends, construction technology innovation, and regulatory activity. To show you how we can help your business succeed, HBW is glad to provide you with complementary building data report or one of our specialized White Paper Reports. Contact us today and start making your business more profitable! HBW live chat is available to answer any questions you might have, asap!