Standard Pacific has merged with Ryland, a move that will position them to build  homes in 17 markets.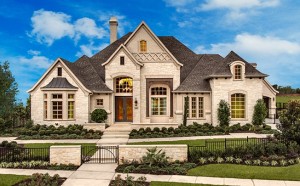 Pictured; a Standard Pacific home on offer in Winding Creek, Southlake, TX. Photo courtesy of Standard Pacific. 
Whether the reason is competing executive egos or conflicting corporate visions, it is incredibly rare for two publicly-held building companies to go through with a merger.  The impending consolidation of volume homebuilding giants Standard Pacific and Ryland Group could spur a rush of mergers within the volume homebuilding industry.
In a recent interview with Kris Hudson of the Wall Street Journal, Standard Pacific Chief Executive Scott Stowell explains that "industry insiders have often speculated about why there isn't more consolidation… among homebuilders … For our companies, the time is now for this to happen."
Two major motives exist for volume builders seeking to consolidate. The first is the scarcity of available land. With the economic bust of 2008 came a drying up of the development pipeline. Builders were liquidating any but the most promising land holdings, which meant a sharp dropoff in the amount of land going through the entitlement pipeline.
Seven years later, there is a serious shortage of undeveloped land that has cleared the entitlement process. Consolidation gives companies access to entitled land reserves and a greater cash pool to bid on highly desirable but undeveloped properties.
The second motive for consolidation is the relatively high number of homebuilding corporations for institutional investors to choose from.  Before 2013, there were already 14 publicly traded volume homebuilders. Eight additional companies went public that year. According to Hudson, that number is too many for any but "the largest and best-run to get the attention of institutional investors."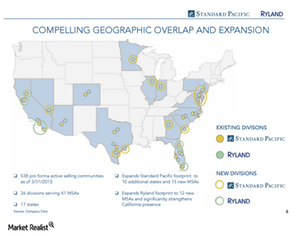 Map for the Standard Pacific-Ryland merger markets, courtesy of Yahoo Finance.
The competition for investors was a major factor in the Standard Pacific-Ryland merger. The new company will be worth $5.2 billion, which will catapult it into a high-capacity builder status. This will almost certainly get the attention of institutional investors.
Builder magazine's John McManus has followed this merger closely enough to make predictions about which companies may seek consolidation within the coming 24-48 months. D.R. Horton, Lennar, and Pulte are the top 3 builders in the nation, and as such are likely to initiate a merger. Toll Brothers and TRI Pointe would be especially desirable partners, as both companies have been aggressive in their acquisitions and expansion.
UPC, LGI, Taylor Morrison and Century are up-and-coming builders who may be pushed out of the market unless they make some serious acquisitions within the next four quarters. Of the four, Taylor Morrison seems the keenest to grow and the most flush with capital to make a move.
The acquisition strategies of Brookfield Residential, NVR, and Meritage have failed thus far, which may make them cautious about consolidation. Smaller and boutique builders KB Home, WCI Communities, M/I Homes, and William Lyon Homes might be the objects of acquisition bids from the Top 3.