Homeowners who love to entertain alfresco are discovering that outdoor kitchen and living areas can increase their property values. Photo curtesy of Customer First Home Services.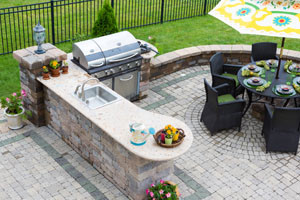 HBW subscribers in North Fulton County area will be interested to know about the new Customer First Home Services portal that focuses on Alpharetta and the surrounding areas.
The portal is a clearinghouse for information that educates homeowners who want to maximize their property values through outdoor kitchen and living design. Contractors and service providers are listed on the site, alongside the latest information about design, safety, cost, and insider tips that will save homeowners thousands on their projects.
Very user-friendly and clear, Site visitors will no doubt appreciate the thorough and easy-to-follow user awareness guides. These guides cover maintenance and repair how-tos, the latest information on new materials and design options, and checklists for planning a project and locating the right professionals to put that plan into action. Customer First Home Services will soon update the portal offerings to include community-building and social media features.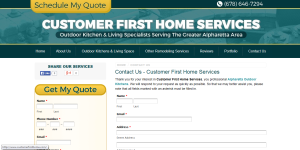 Customer First Home Services founder Mike Rivers says that "Our goal is to educate the community on how to get the best results for all their property improvement projects at any budget." The websites features "informative and professional article sections [that] … help everybody–not just our Customer First Home Services customers. The depth of knowledge and resources at www.customerfirsthome.com is 100% unbiased, concise, and free to all."
Rivers, a veteran of the landscaping and remodeling industries, decided to start Customer First Home Services to help connect homeowners wanting outdoor kitchens and living spaces with the professionals who can came those dreams a reality. In addition to providing information and connecting homeowners with home service providers, Customer First Home Services also offers design-build services for interior remodeling and outdoor living areas.
HBW serves builders in Alabama, Georgia, Texas, Florida, and Oklahoma. In addition to our Building Trend Activity for Residential Construction Reports, HBW can create a number of custom reports for any need you might have. We also offer exclusive White Paper Reports to help you target your marketing efforts. To show you how we can help your business succeed, HBW is glad to provide you with complementary building data report or one of our specialized White Paper Reports. Contact us today and start making your business more profitable!