A list of upcoming conventions and expos designed for construction professionals.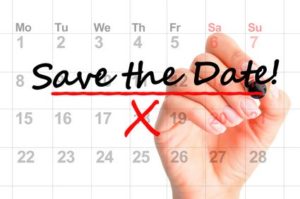 Every quarter or so, we take time to review our calendars for upcoming industry events that may be of interest to our readers.  Although exhibiting in expos requires quite a bit of extra planning (and resources), attending conventions and shows can be an easy undertaking, especially if they take place nearby.  Here is a list of several upcoming conventions and expos (in chronological order) that are geared to the construction industry:
AIA Expo – Conference on Architecture
When: April 27-29, 2017
Where: Orange County Convention Center – Orlando, FL
AIA Convention 2017 is a major architecture and design event featuring an expected 800 exhibitors representing software and technology, energy efficiency, building systems, finishes, lighting, stone and tile, restoration and more.
Education:  There will be 500+ session including workshops, seminars, tours and expo credit.
For more information on the AIA Expo 2017 and online registration, visit the event website.
East Coast Builders Conference (ECBC 2017)
When: May 4-5, 2017
Where: Cobb Galleria Centre – Atlanta, GA
This event is geared toward the East Coast residential construction industry.  Exhibiting products include: appliances, building materials and equipment, business services, doors and windows, kitchens and countertops, electronics, lighting, flooring, roofing, siding, technology and more.
Education: A variety of educational tracks will be offered in areas including building, remodeling, design, and management. Topics range from industry technology and law to marketing and business, with the ability to earn all CU's for the year in one event.
For more information, visit ECBC website.
Build Expo – Atlanta, GA
When: July 12-13, 2017
Where: Georgia World Congress Center
Exhibit times: 10:00am-3:00pm daily
Education: Seminars are offered with categories including sales and marketing, green building, construction law, business management and AIA accredited sessions.  All educational sessions are complimentary and seating is limited.
For more information on the Atlanta Expo, as well as those in Houston (August 16-17, 2017) and Dallas, visit the Build Expo website.
Sunbelt Builders Show
When: August 2-3, 2017
Where: Hilton Anatole – Dallas, TX
The Sunbelt Builders shows draws thousands of residential construction industry professionals from all over the U.S.  With more than 200 exhibitors and thousands of attendees, leaders from multi-family building, remodeling, land development, finance and management are expected to participate in the event.
Education: Each day offers several different educational sessions and seminars.  Topics include marketing and sales, design trends, energy code solutions, taxes and auditing.
For more information, visit the Sunbelt Builders Show website.
ICUEE 2017 The Demo Expo – The International Construction & Utility Equipment Exposition
When: October 3-5, 2017
Where: Kentucky Exposition Center – Louisville, KY
The International Construction and Utility Equipment Exposition (ICUEE) is also known as The Demo Expo.  Held every two years, the event is designed to address the needs of utility professionals and construction contractors in the areas of electric, sewer/water, telecommunications/cable, and natural gas. With over 950 manufacturers on display, attendees can test-drive the latest equipment, watch live demonstrations of new products and technologies, and take advantage of offerings in industry education.
For more information about the expo, visit the ICUEE website.
 Greenbuild International Conference & Expo
When: November 8-10, 2017 (Expo: 11/08-11/09   Conference: 11/08-11/10)
Where: Boston Convention & Exhibition Center – Boston, MA
Greenbuild is the world's largest conference and expo dedicated to green building.  Thousands of construction professionals from all over the world and varying sectors of the industry join together for three days of educational sessions, networking, showcases and LEED workshops.  In 2016, more than 18,000 people attended the event, with the majority of attendees representing architecture/engineering/design firms, contractors and builders, consultants and educators.
To learn more about exhibiting and/or attending Greenbuild, visit the event website.
While the above listed events do not begin to cover all of the industry events and expos that will be happening this year, they are a good place to start if planning to get more involved in the construction industry and community.  Whether attending an educational session or simply looking for the latest tools and technologies on display, it is worth adding an event or two to your calendar to stay fresh and inspired.
For quick tips on making the most of trade shows, check out the previous post Mark Your Calendars for Trade Shows.  For more information on construction business and marketing tips, stay connected with the HBW Blog.  To get ahead of construction activity and gain access to the latest permitting data in Florida, Texas, Georgia, Alabama and Oklahoma, contact HBW for more information on construction data reports and industry leads.